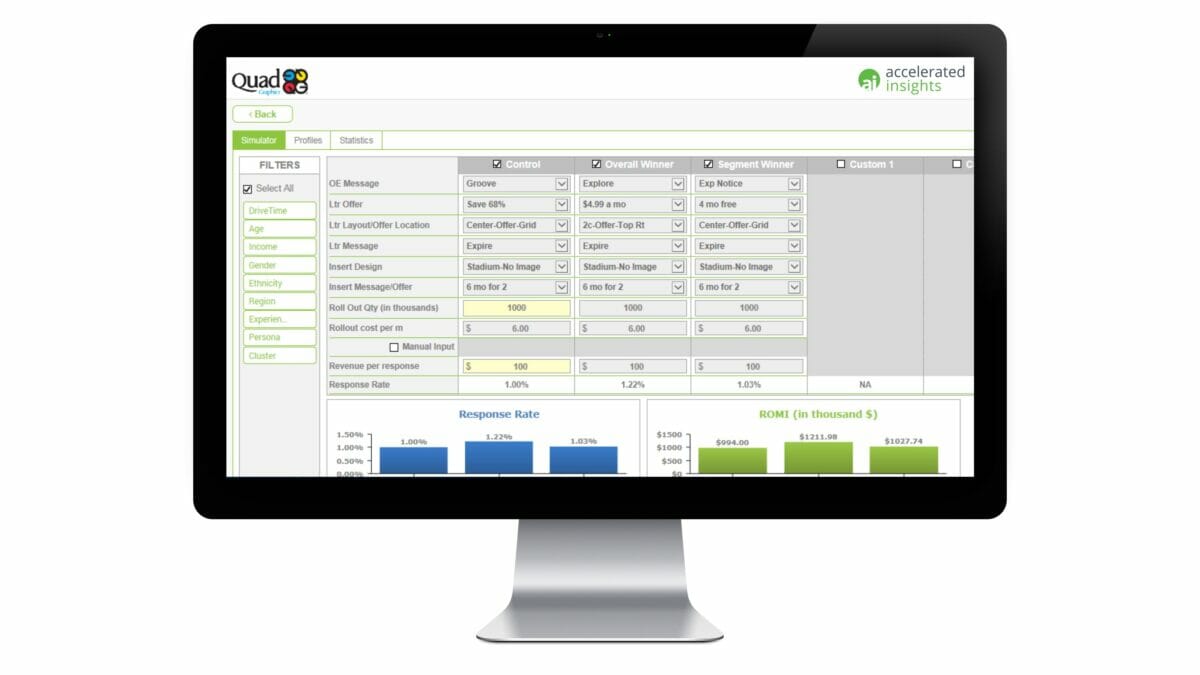 Before going digital, I worked in the newspaper and direct mail industries. While newspaper's failed to adopt or adapt in time to maintain their control over advertising budgets, direct mail continues to still drive incredible results. In fact, I'd argue that many direct marketing campaigns with direct mail may get much more attention – breaking through the noise of digital. The fact is that, while I get hundreds of emails and banners hitting me every day, I get very few direct mail pieces… and I view them all.
As with most mediums, though, direct mail requires continuous measurement and optimization. Given the cost of mail, many marketers have given up on the medium for this reason and moved to a less risky digital approach. It's unfortunate… since getting front of some prospects is best accomplished through traditional mediums.
What if you could test your direct mail campaigns without that cost?
Quad/Graphics has launched a direct mail testing platform that uses predictive analytics to more rapidly test creative and formats without a physical mailing. It's called Accelerated Insights and it can test up to 20 content variables in one pass. It uses a sophisticated persona matrix that combines demographics with emotional characteristics to predict what factors motivate someone to act on an offer.
On average, Accelerated Insights has helped marketers deliver:
An 18 to 27 percent lift in response rates
Dependable results in 60 days vs. one to two years for traditional testing
A 90 percent reduction in testing costs
All of this is achieved without sending a single piece of physical mail. The platform, called Accelerated Insights, verifies that testing predictions are 97 percent accurate (+/- 3 percent), ensuring survey results will be reproduced in a live test. The team has implemented and tested the system across several industries:
National Auto Insurance – Accelerated Insights predicted a 23 percent increase in response rate, the actual increase was 25 percent.
National Telecom – Reduced its testing budget by 55 percent after Accelerated Insights accurately predicted which elements impacted response the most
Regional Specialty Footwear Retailer – 32 percent lift in response
 which outperformed company's KPI baseline by at least 200 percent. The company extended the use of Accelerated Insights persona matrix into all marketing channels
National Life Insurance Firm – Accelerated Insights predicted an 18 percent lift in response and the actual increase was 19 percent