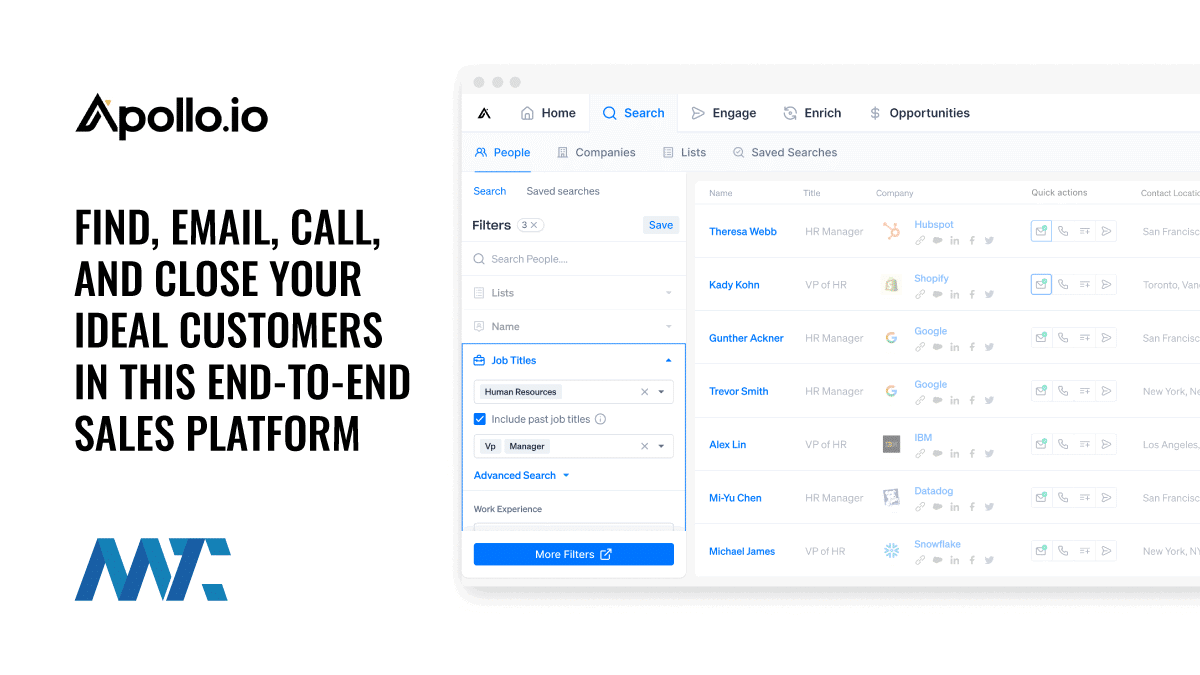 Finding leads, integrating systems, and managing multiple platforms can be daunting tasks for sales and business development teams. Apollo offers a comprehensive solution to address these challenges and efficiently improve how companies approach their sales processes. With its wide range of features and benefits, Apollo simplifies lead generation, prospect engagement, and end-to-end workflows, providing a seamless experience for sales professionals.
Apollo Sales Platform
Apollo is the only sales platform that combines the essential functionalities of finding, emailing, calling, and closing ideal customers in one centralized place. It eliminates the need for multiple tools and streamlines the sales process, allowing teams to focus on generating more opportunities and achieving their targets with minimal effort.
Features of Apollo Include:
Prospect & Enrich: Apollo's built-in B2B database empowers its users to target 265+ million verified contacts with 65+ filters. Apollo's extensive B2B database allows users to precisely target prospects based on buyer intent, job postings, and headcount growth criteria. This ensures access to accurate and rich buyer data, enabling informed decision-making and effective prospect engagement.
Engage: Apollo's robust outbound features include the tools to build sequences, make calls, connect on social media, and send personalized emails. Apollo's Engage feature empowers sales professionals to conduct winning outbound campaigns at scale. By utilizing these engagement tools, teams can efficiently fill their pipelines with high-quality meetings, increasing response rates and driving meaningful conversations with prospects.
End-to-End Workflows: Apollo's Automations and AI insights encompass whole-funnel automation. Apollo's end-to-end workflows streamline the sales process. By automating repetitive tasks and providing AI-driven insights, teams can enhance efficiency and gain valuable information to close deals effectively. This feature eliminates manual effort, allowing teams to focus on building relationships and closing deals.
Integrations: The platform integrates with go-to-market stacks and existing CRM systems: Apollo integrates seamlessly with various go-to-market stacks, enabling teams to connect their existing CRM systems effortlessly. This integration ensures that all data remains up-to-date, eliminating the need for manual syncing and enriching workflows. Teams can operate more efficiently, saving time and resources while maintaining data accuracy.
Apollo has proven its effectiveness in helping companies significantly improve their sales operations. Census, for example, experienced remarkable results after switching to Apollo. They reduced their costs by 50%, obtained 50% more email addresses, 400% more phone numbers, and increased data quality by 50%.
We were paying Outreach $18,000. ZoomInfo must have been another $15,000. When we did the migration Apollo was $12,000. We paid less for one tool than two tools together. We basically went from paying $35,000 for two tools to $12,000 for one. We cut our costs in half."

Sylvain Giuliani, Head of Growth & Operations, Census
Apollo stands out as the go-to solution for sales teams seeking a comprehensive platform to streamline their lead generation, prospect engagement, and end-to-end workflows. With its vast B2B database, precise targeting capabilities, engagement features, and seamless integration options, Apollo empowers sales professionals to achieve their goals efficiently. By simplifying and optimizing the sales process, Apollo enables teams to focus on building relationships, generating more opportunities, and ultimately closing more deals.
Apollo is the end-to-end sales engine. Find buyers, connect at scale, and move your business forward. Signup today, for free (no credit card or commitment needed):