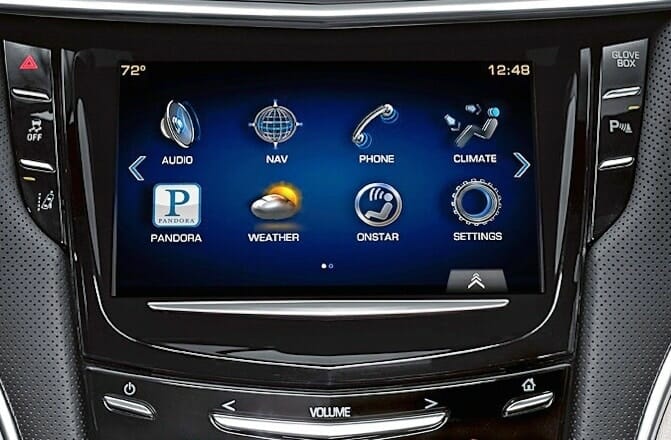 One of the luxuries I do enjoy in life is a beautiful car. I don't go on expensive vacations, I live in a blue-collar neighborhood, and I don't have expensive hobbies… so my car is my treat to myself. I drive a ton of miles every year and enjoy driving to any destination within a couple of days drive.
My car has 3 HD screens built in – one touch screen in the console and one on the back of each of the front seats. In the last 3 years, I believe I've only used one of the screens in the back seat once… when my daughter sat in the back seat on a trip. The car has a DVD player, audio/video hookup in the back seat, satellite radio, and OnStar. There's a maps platform that's built into the console.
In my front seat on those trips are my iPad and my iPhone with the necessary chargers and USB connection to my car's audio system. In the back seat, I have my laptop. Bluetooth connects my phone to the system.
As soon as the trial was finished for satellite radio, I let it go. iTunes radio and the music on my iPhone provides provide much richer quality via the USB connection through the Bose surround sound system in the car.
The mapping platform requires an upgrade via DVD each year that costs over $100 to keep the maps up to date. I don't use them because I use Google Maps and all of my contact info, Internet search, and calendar are totally integrated.
The car came with its own phone number that I never activated… it's why I have a smartphone and use Bluetooth connectivity (it works perfectly).
The car has an internal 40Gb hard drive that I can transfer music to by USB, CD, or DVD… but not through my smartphone. So I have a few random CDs loaded that I never listen to.
My OnStar subscription is ending soon and I'm thinking seriously about not signing up for ongoing service. I just don't use it… for anything.
Since iOS updated, I've had off-and-on issues with my phone not getting recognized with the car. The car doesn't have upgrades or an app store, nor does it seamlessly integrate with my life… but my phone does.
Now GM is adding wifi in their cars as an option. I already have wifi… through hotspots on my iPhone and my iPad. The car wifi announcement has put me over the edge. Outside of the GM chairman being a Telecom guy, I just can't figure out why they're going down this road.
I don't take my car everywhere, I take my phone everywhere.
iPad sales and tablet sales are outselling every desktop out there. I've read some news that Apple is working on bringing an iOS interface to cars within the next few years. No doubt that Android could get there earlier. What I can't understand is why the auto industry is trying to somehow work in parallel when all the technology exists already in the palm of my hand.
My phone is not an accessory for my car.
I want a dashboard that I can slide my phone into that enables a console that displays common applications on a larger touch screen. I want the keyboard disabled unless the car is at a stop. I shouldn't even be able to remove the phone unless I'm in park. Get rid of the backscreens and install universal brackets for tablets. Let my passengers plug in their phone or tablet, listen to their own music, or connect through an App to my car to extend my screen (sort of like AirPlay for AppleTV). Let me play my passenger's music or my music.
My car is an accessory for my phone.
I want to control, upgrade, buy apps, listen to music, access maps, or share my screen on my devices… not my car's platform. I don't want to pay for new data plans, new phone plans, new music plans, new map data… when I already pay for that on my smartphones and tablets.
The only thing I may opt into is an OnStar or other satellite data connection that I would pay for as a backup in the event that I'm out of cell range of my carrier. Additionally, a reserve battery for plugging in my device if the car is in an accident and power is unavailable would be something worth paying for.
Car manufacturers shouldn't be working on operating systems and wifi connectivity, they should be working to bring the car's experience to applications on my phone… and then a system that plugs the car into my phone.
Note: The photo is from Cadillac and is their CUE system.