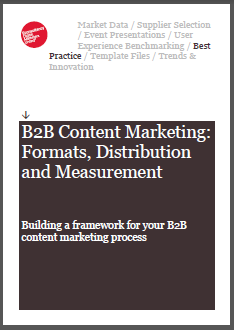 You may have noticed we did a little decorating of our top navigation on the site… blogging has now been replaced with content marketing. Seems that the powers that be have adjusted the marketing verbiage again. This time, I actually like the change. The term blogging was getting old… and combined with all the other distribution and promotion channels, it really has become one part of an overall strategy.
The great folks at Econsultancy have put out another great guide for business to business (B2B) marketers: B2B Content Marketing: Formats, Distribution and Measurement – Building a framework for your B2B Content Marketing Process.
The guide focuses on the three pillars of content marketing:
Content formats – This relates to the different types of content available in the marketing armory, including written, spoken and visual content.
Content distribution – This relates to the marketing channels at your disposal for publishing and distributing your content to secure maximum exposure.
Content measurement – This relates to the evaluation toolkit at your disposal to help identify the impact that your content is having on e-commerce Key performance indicators (KPIs) such as traffic and conversion and to then fine tune performance to improve those KPIs.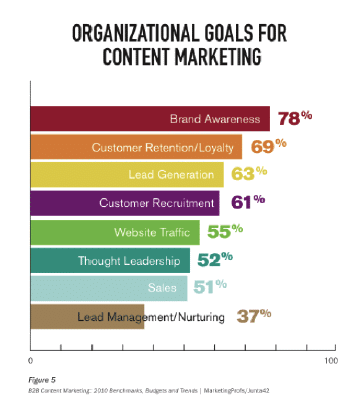 The guide also provides insight into what the commercial benefits are, including brand awareness, customer acquisition, site traffic and lead generation, lead management, customer retention, and thought leadership. I love the fact that customer retention is high on the scale as an organizational goal, but I'm disappointed that more companies don't see thought leadership as the primary goal of B2B Content Marketing. Perhaps that's why we see so much crappy content out there!
Download a sample of the B2B Content Marketing Best Practice Guide here to see the full index and depth of the guide. Sign up with Econsultancy using our affiliate link if you'd like to get this guide and a ton of others throughout the year.