A good friend of mine, Derek, has been emailing, calling and texting me all day to rescue me from my Bachelor Christmas Dinner. His wife, Anne, is a fantastic cook… gourmet cook. They want me to come over today (right now) for a beautiful dinner with their family. Christmas is a day for family, so I've always felt funny sitting down to break bread with another family. Though they continue to call (I'm waiting for the police to come any minute), I have chosen my dinner.
For Thanksgiving, my kids joked with me, "What type of pizza we were going to eat?" It was just the motivation I needed to make an incredible Thanksgiving dinner. We had the works! Turkey, stuffing, potatoes, gravy, pumpkin pie, rolls, etc. Everything came out perfect – and even the turkey was incredible – a very moist Butterball.
Now it's Christmas and my kids are at their Mom's house. It's time for a Bachelor Christmas Dinner!
At 3AM this morning, while perusing the aisles of the local 24-hour pharmacy, I found my Bachelor Christmas Dinner:
Lay's Cheddar and Sour Cream Potato Chips… that's right folks, they put the dip on the chips so you don't have to waste time dipping. And they were on sale! Buy 1 get 1 free.
2 Cans of Campbell's Grilled Steak Chunky Chili. Nothing but the best!
2 Cans of Generic Diet Orange soda borrowed from my neighbor (I'm house-sitting her 3 cats)
And Desert? A fine ACID Blondie cigar. (Found it in a zip loc on my desk… it's perfect)
I took a picture to save the memory in time: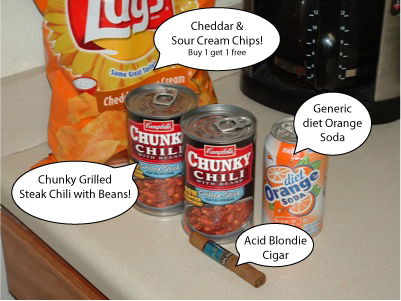 You guys may think I'm crazy to give up a gourmet meal for this… but add a television table, boxers and an alien special on the History Channel, and we've got a very, very, Merry Christmas for Doug!
Merry Christmas Everyone!