Just in time for the holidays. Did you know that 10% of all gift cards are never redeemed? That's free money for the retailers.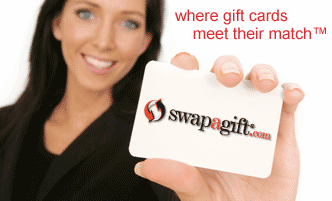 Got a gift card you're never going to use? Sell it at Swapagift!
Before you go buying all of your friends, family, and co-workers Gift Cards, you should buy them at Swapagift… at a discount!
Heck, with the average discount being 12% when buying it, why not buy gift cards online and just do your regular shopping with them?
I checked today and I can buy a $40 Starbucks Card for $35!!! That's a free Mocha!
Note: Swapagift.com verifies the balance on the gift card before the payments are made. What a great idea!