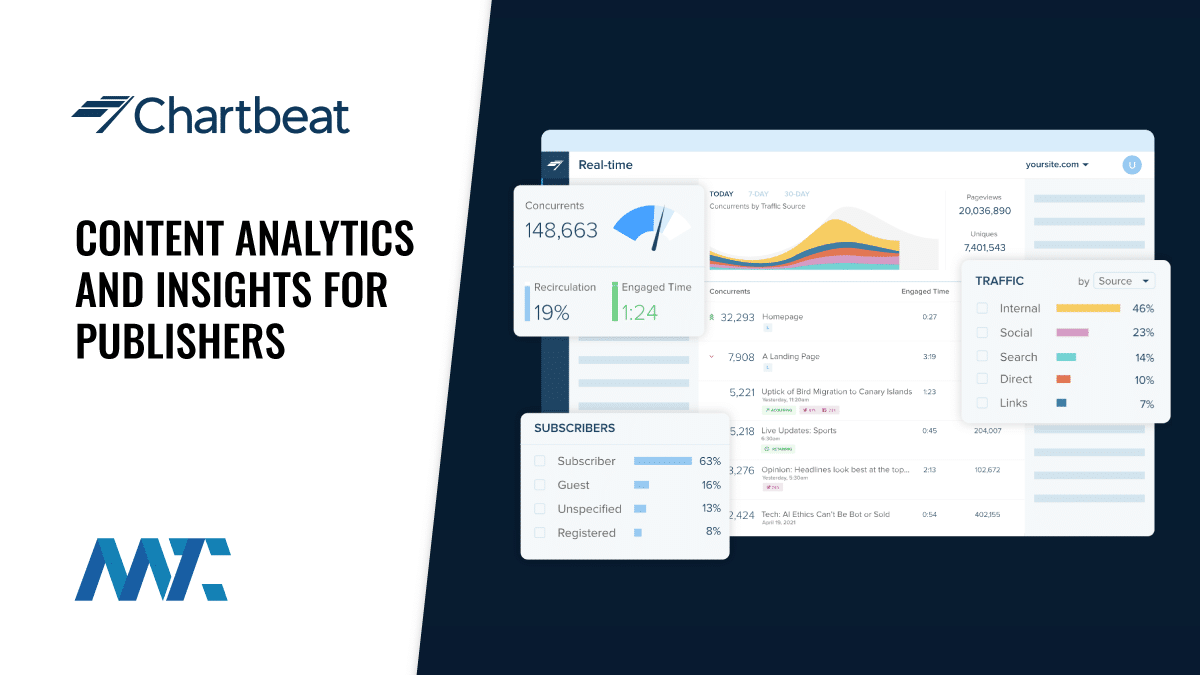 Publishers constantly seek ways to engage their audiences, make informed editorial decisions, and build reader loyalty. One powerful tool trusted by thousands of content teams worldwide to achieve these goals is Chartbeat. This clever and robust software delivers real-time analytics, insights, and transformative tools that can be a game-changer for publishers.
At the heart of Chartbeat's offerings is its suite of tools designed specifically for publishing. This suite is made to monitor, optimize, and measure the performance of digital content in real-time. Here's how Chartbeat can help publishers in various aspects of their operations:
Chartbeat Features
Monitoring and Optimization: Chartbeat's real-time dashboard provides publishers with a comprehensive view of how their content is performing. With this tool, content teams can monitor audience engagement, track page views, and gain insights into what content resonates the most with their readers. This level of visibility allows publishers to make data-driven decisions to improve audience engagement and boost user loyalty.
Datastream: Offers real-time content data directly to publishers' systems. This data can be invaluable in making live content decisions backed by up-to-the-minute research. It empowers content teams to stay in touch with performance even when they are not actively working, ensuring they are always aware of what's happening on their platforms.
Chartbeat recognizes that in today's digital landscape, pageviews alone don't paint the full picture of audience engagement.
Engaged Minutes is much more valuable to us than page views. It gives us a much deeper understanding of how our readers interact with our content.

Gabe Isman, Director of Technology at The Marshall Project
This shift in focus from pageviews to engaged minutes enables publishers to tailor their content strategies more effectively. Chartbeat stands out by providing the fastest and cleanest signals from the audience compared to other analytics products. It helps publishers make editorial decisions that can lead to substantial gains in traffic and users. It's not just a tool for newsrooms and editorial teams; it also caters to marketing and other editorial brand needs.
In addition to its suite of tools, Chartbeat offers valuable research and insights to keep publishers informed about industry trends. Their research reports cover topics such as Facebook traffic to news and media sites, visitor reading habits, and global audience insights. These resources give publishers the knowledge they need to stay competitive in the ever-evolving digital landscape.
Chartbeat is an indispensable ally for publishers looking to unlock the full potential of their content data. Its real-time insights, datastream capabilities, and focus on engaged minutes empower content teams to make informed decisions, optimize their content strategies, and ultimately build a loyal and engaged audience. With Chartbeat, publishers are equipped to thrive in the dynamic world of online publishing. Want to learn more? Schedule a demo with Chartbeat today and discover how it can transform your publishing operations.