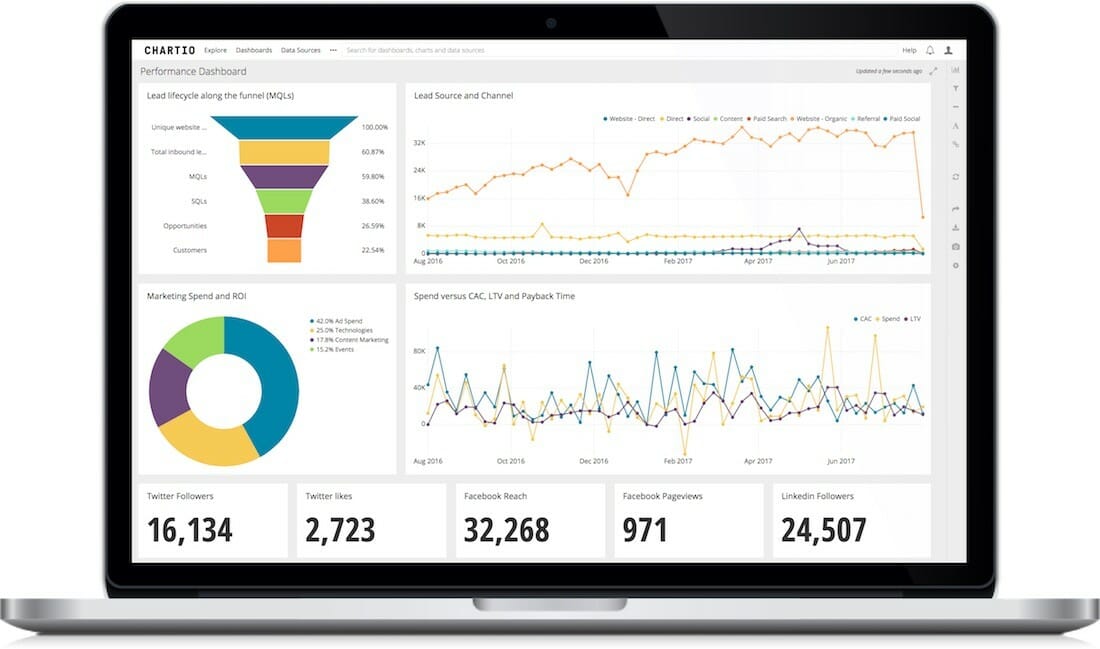 Few dashboard solutiosnhave the ability to connect to just about everything, but Chartio is doing a great job with a user interface that's easy to jump into. Businesses can connect, explore, transform, and visualize from just about any data source.
With so many disparate data sources and marketing campaigns, it's difficult for marketers to get a full-view into the lifecycle of a customer, attribution and their overall impact on revenue. Chartio
By connecting to all of your data sources, Chartio allows you to combine all your marketing data to track performance and attribution. This enables marketers to be data-and ROI-driven by creating repeatable and scalable campaigns. Best of all, Chartio provides a great user interface to build beautiful dashboards to quantify your marketing impact to your client or company's leadership.
Pricing is in line with other dashboard platforms, starting at $249 US a month. That includes sharing capabilities, supporting mixed-user roles, intuitive self-onboarding, unlimited access to online training, community and email support.
Out-of-the-box integrations include Amazon Redshift, Google Analytics, Google BigQuery, MySQL, Amazon RDS, CSV File Uploads, IBM DashDB, IBM DB2, Google Cloud SQL, Heap, Heroku, HPE Vertica, HubSpot, Marketo, Microsoft Azure, Oracle, PostgreSQL, Rackspace Cloud, Salesforc, Segment, Snowflake, SQL Server, Treasure Data, VoltDB, Workable, Zendesk.
Partner Connections include Astronomer, Blend, Fivetran, Keboola, Matillion, Segment, Stitch, Treasure, xplenty. Advertising integrations include AdRoll, Bing Ads, Datorama, DoubleClick, Facebook Ads, Google Ads, Liveramp, Outbrain, Sizmek, and Yahoo Gemini.
Web Analytics dashboard integrations include Appsee, Google Ecommerce, Google Tag Manager, Mixpanel, and Snowplow.js.
Mobile Analytics dashboard integrations include Adjust, Android, Appsflyer, Apsalar, Google Analytics 360 Suite, Kochava, Tenjin, Tune, Unity, Xamarin, and iOS. Automation integrations include Delighted, FormKeep, Particle, Urban Airship, Webhooks, and Zapier.
CRM, CMS and Marketing Automation dashboard integrations include Base CRM, Close.io, Contentful, Pardot, SalesforceIQ, and Yotpo. Email integrations include Active Campaign, Customer.io, Drip, Freshdesk, Iterable, Klaviyo, Mailchimp, Mailjet, Mandrill, Nudgespot, Sendgrid, Sendwithus, SparkPost, and Vero.
Support dashboard integrations include Desk.com, Intercom, Jira, and Zopim.
Payment dashboard integrations include Recurly, Square, and Stripe.
Business and Productivity dashboard integrations include Aftership, Asana, Basecamp, Braintree, Branch, E-Conomic, GitLab, Github, Google sheets, Hadoop, Harvest, Intuit QuickBooks Online, Magento, MongoDB, NetSuite, Referral SaaSquatch, Shippo, Shopify, Shopify Plus, Taboola, Trello, Twilio, Wootric, Xero, and Zuora.