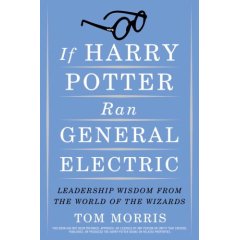 Saturday begins with my regular stop to Borders. I ordered Google Map Hacks off of Amazon so I could work on some overdue mapping interfaces for ResortPub this weekend. I ordered 2-day shipping but the book didn't arrive… it's tracked to Columbus, OH. I think this is the first time that I've not received my order from Amazon on time – hope it doesn't happen again.
Back to my point… I'm at Borders and I happen to see the book If Harry Potter ran General Electric. I'm currently reading The Long Tail and it speaks to the intriguing concept that technology advances in computers, the internet, and distribution are driving sales of products that are not in the top percentiles. It's a great book. Having just read Freakonomics, this is the perfect compliment.
As I viewed the title of If Harry Potter ran General Electric, I couldn't help but find it interesting that author Tom Morris, while an established author with great reviews, used the success of Harry Potter to push his book 'up the tail'. Visitors to Amazon who do a search of Harry Potter will find this book at #30 in their search results. Harry Potter may be the most successful series of books of all time. Children and parents alike stand in line and are hungry for the next book. As they peruse Amazon, I can't help but wonder how many thousands of them purchased this book.
I'm also curious if this was a deliberate marketing strategy of Mr. Morris and his Publisher! Overall, his book is rated at #66,951 on Amazon while his last book is #154,295. Did Tom Morris simply become a better writer over the last 3 years? Or did his book chase Harry Potter and get him further up The Long Tail?
Robert Scoble & Shel Israel spoke about this trend occurring with Naked Conversations. It's interesting to think that this could be utilized as a strategy, though!