A key trend that we see right now on the web is the implementation of B2B and B2B2C via e-commerce. Even if your company has a sales team, the process of negotiation, proposal generation, and invoicing is all moving online. These methods used to connect to multiple systems, require manual intervention, and simply couldn't be addressed by your standard ecommerce platform. That's changing rapidly and a company that's erupted in popularity is CloudCraze.
CloudCraze is the first and only proven Enterprise eCommerce Platform developed natively on the Salesforce Platform. It delivers the reliability and scalability of Salesforce to B2B eCommerce software while sharing data and processes with existing Salesforce CRM deployments.
CloudCraze leverages a B2B company's existing customer data from its Salesforce account and fuses it with its eCommerce platform system. CloudCraze works in reaction to the Salesforce customer data as well as its learned data to better serve these customers accordingly. The company was recognized in the Forrester Wave™: B2B Commerce Suites, Q2 2015 and is already serving Fortune 500 companies, such as Coca-Cola and Barry Callebaut.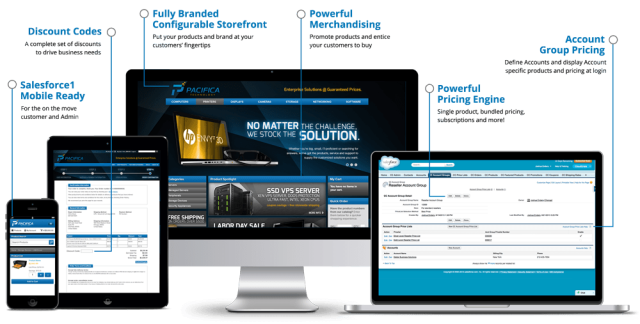 CloudCraze Features Include
Shop Anywhere, Anytime, on Any Device – User Experience renders automatically on any mobile device with Responsive Design
Search and Browse Products – Search for products by product name, SKU or product description, product attributes
Product Details – View product details including product name, price, rating, review, product features, detailed product descriptions, availability, ratings, reviews, alternate products, and product documents.
Product Promotions – Coupons, related products and promotions available throughout.
Shopping Cart – full-featured cart with wish-lists, quotes, calculated taxes, shipping, order view, payment opitons, confirmation, and email.
Account Management – Order history and account management with default billing and shipping addresses.
Internationalization – localized currency and multi-lingual support. Support for all 161 currencies and all 64 languages supported by Salesforce
Branded Storefronts – Manage and configure multiple unique storefronts.
Analytics – built in analytics and reporting functionality that allows you to capture and expose appropriate data to Google Analytics to optimize the information you receive.
Request a Branded CloudCraze Demo
Deploy mobile storefronts quickly, generate online revenue in weeks, and easily scale for growth.