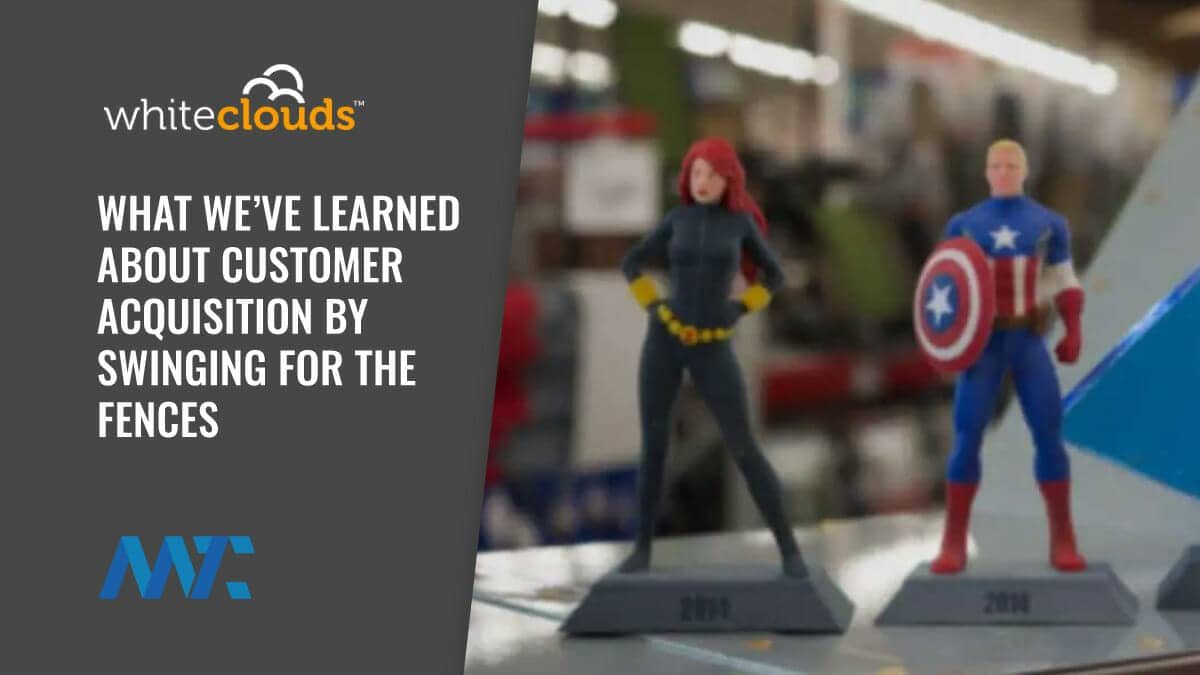 Take us out to the ballgame? Yes! 3DplusMe, a company acquired by WhiteClouds, has been a licensee of MLB for the past two years, creating interactive 3D experiences and personalized full-color 3D products for ballgame-goers. We built and provide the technology that enables MLB attendees to get drafted to their favorite team and "become" a player via our capture-to-print platform.  Fans choose their team, uniform, jersey name, number, and pose and within seconds they see themselves as a player for their favorite team. From there they can order a fully 3D printed version that gets delivered to their home.
3DplusMe is also the platform for personalized 3D capture-to-print experiences at retail. Guests become their favorite toy, action figure, sports hero, video game or movie character, and more, at retailers such as Target, Toys R Us, and Wal-Mart.
Given our track record in both environments, we've focused on and learned what attracts and converts customers, and think these learnings can be applied broadly, no matter the environment. Here's what our research and experience show:
Customers are more apt to buy when you create an experience that brings them into the story of the product. When fans are at events they are emotionally engaged in that content which drives their behavior for product experiences.
In a standard retail environment, when a guest is just passing by a product, 15% of fans who engage with the 3D experience at retail purchase at an ASP of $59.00. The experience allows anyone to try it for free and see themselves as their favorite superhero or other toys. The job of the experience is to drive fans to purchase. These are solid numbers compared to a standard retail conversion rate of 1-2%.
At events where concentrated loyal fans are represented, 60% of fans purchase at an ASP of $135. Perfect examples of that conversion rate have been demonstrated in stadiums at the World Series, the MLB All-Star Game Fan Fest, Spring Training, and other event environments. Fans want to become part of the team and the 3D experience gives them that opportunity.
The key takeaway from our perspective:
Transformational experiences increase conversion
When you can build product experiences that create aha moments and emotionally engaging interactions, people want to purchase. In standard retail environments, where it is traditionally hard to increase conversion, we have proven that you can up your rates by creating retailtainment experiences for customers.  We have also proven that when you are at events like the World Series, All-Star games, Comic-con, and the Super Bowl you can drive high conversion through compelling experiences.
Story-driven emotional connections are the key to driving sales. Our experience has provided some easy tips that marketers can employ in any retail environment.
Use your resources and business partners to create transformative experiences that align with your brand. These can be large-scale public events or smaller more intimate in-store promotions. For example, we worked with Ubisoft to offer fans the ability to become Arno when Assassin Creed Unity launched in the Ubisoft Lounge at E3 (Electronic Entertainment Expo). This provided an exclusive experience to fans tied to the storyline of the property.
Create an experience that builds with anticipation and excitement from the minute customers engage to the final sale. For example, from the moment a fan enters the 3DplusMe onsite pavilion, they are enticed. It begins by ensuring that everything which goes on is aligned with the story from signage that invites guests to Get Drafted to Your Favorite Team, proceeding to a highly personalized selection of each feature and ending with a final dramatic reveal (music included) of the character. This transformative experience perfectly aligns with the emotions felt by event attendees.
Offer irresistible enticements. Amusement parks know that when they display pictures of each guest on a popular ride with no obligation to buy; a powerful emotional tug will occur and sales will be made! By the same token, at our scanning stations, customers can scan their faces free of charge, and immediately see what the final product will look like, which helps incent purchase.
Test and optimize: Once you have a story-driven experience you have to test and optimize to make sure that you craft a process that leads customers through the experience in a compelling way. You need a structure that lets you see what works and continue to improve on that process.
Top marketers know that bringing customers into the storyline of the product is the best way to drive conversion and loyalty which ultimately increases sales. When you want to swing for the fences you have to get up to bat many times, learn from every pitch, and eventually, you will hit a home run.