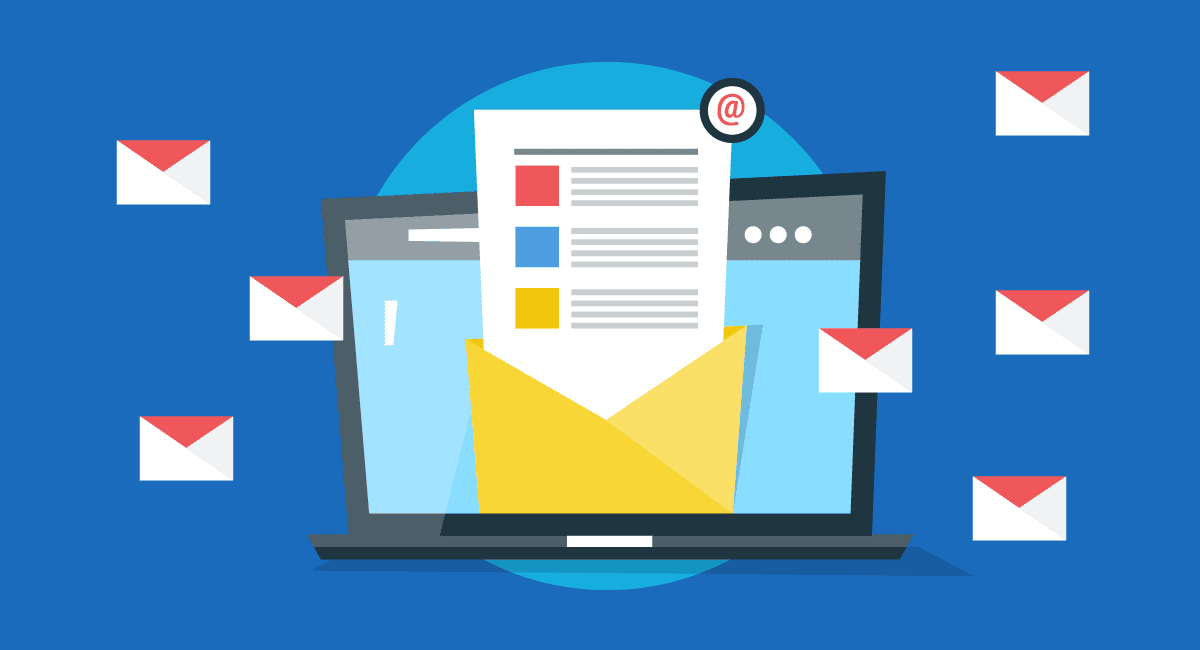 There's no doubt that email marketing can be one of the most effective ways to reach out to potential customers. It has an average ROI of 3800 percent. There's also little doubt that this form of marketing has its challenges. Businesses must first attract subscribers who have a chance of converting. Then, there's the task of segmenting and organizing those subscriber lists. Finally, in order to make those efforts worthwhile, email campaigns must be designed to target people with the right content at the right time.
You can absolutely meet these challenges, effectively create and manage email lists, and use them to your advantage in your campaigns. Below, we will go over various technologies used to collect, confirm, and organize mailing list. We'll also discuss the role of opt-ins. After that, we'll go over strategies for list segmentation, and go over tips for creating email and newsletter content that drive conversions.
Marketing Email Technologies
You won't get very far in your efforts to collect and manage your email lists before you realize that the standard email solution you're using for day to day communications really isn't suitable for email marketing. You really need a dedicated solution for email collection, confirmation, segmentation, and to handle opt-ins. Fortunately, you have several options available to you.
Let's start with some tools for attracting subscribers. You can add to your email subscription lists from a variety of sources, using many techniques. You can add email subscription forms to your website, create landing pages for the purpose of gathering email addresses, entice subscribers with contests or special offers, even collect emails at events. Those are just a few options. These utilities can help you get more interested subscribers.
Listagram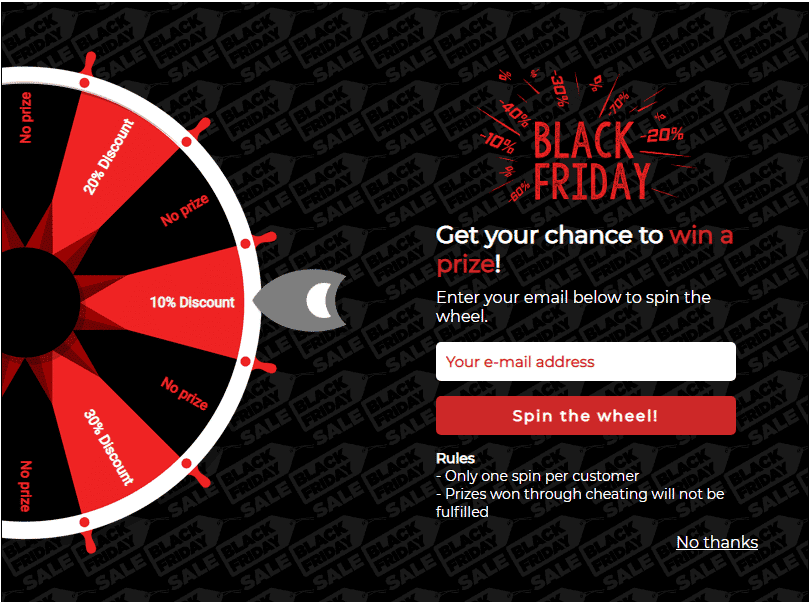 Exit intent popups give you a final opportunity to collect email contact information. These pop-ups appear as customers are exiting your website or landing pages, and encourage customers to move a bit further down the funnel by signing up for your email list. This is a great alternative for people who may not be willing to convert just yet, but are still interested.
Listagram is a particularly engaging tool for this purpose. This tool gamifies the process of collecting signups by using a 'wheel'. Rather than simply asking for an email address at the last moment, you create a custom wheel for visitors to spin in order to get a discount, free product, or other offer. In return for collecting their prize, they provide you with an email address.
Sign up Anywhere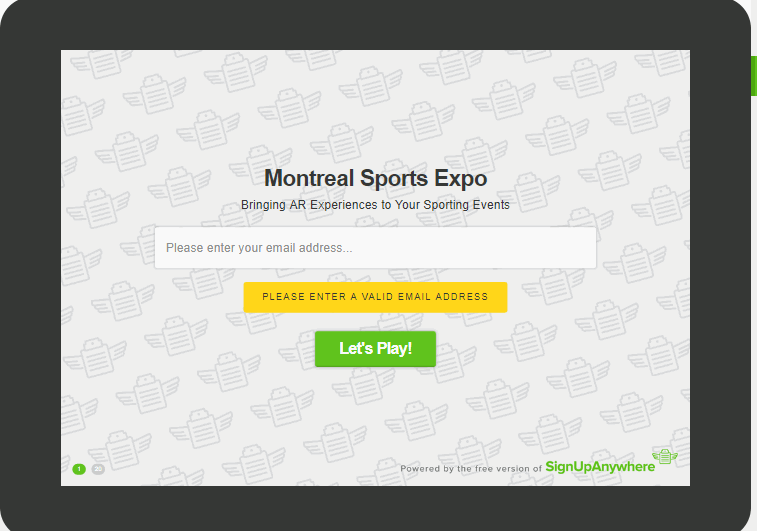 Conferences, seminars, and other events provide you with a perfect opportunity to reach out to potential customers. After all, they've shown at least a tangential interest in you by showing up. Unfortunately, some of the more common methods used to collect contact information are less than optimal. You can set out a clipboard asking for sign ups, but that's clunky. You'll have to transcribe all of that later. Setting up a workstation and entering in subscriber information yourself is also frustrating, and it keeps you engaged in a 'heads down' task when you should be talking up your business. Then there's the matter of often spotty internet connections that seem to plague these events.
Consider Sign up Anywhere instead. This tool allows you to set up email forms, and publish them on tablets, mobile devices, and laptops. They work with or without Wi-Fi, and can be imported when you return to the office. Simply create your form, add it to a couple of easy to use devices and leave them where you would normally leave a clipboard or notepad. Attendees can leave their contact information, and you can incorporate it into your lists later.
Facebook Lead Ads
These are Facebook ads designed specifically to help you collect customer information. Rather than manually inputting information, customers that wish to be contacted simply tap the ad, and facebook brings up the form with contact information from their profile already in place.
However you collect email addresses, the next step is storing them and segmenting them in ways that assist in your marketing efforts. If your email lists are in the hundreds, or even thousands it's not something you want to handle manually. Instead, let technology help, and focus on developing a segmentation strategy that works for you. Some common email segments include:
New Signups – For welcoming emails and first time customer offers.
Customer Interests and Preferences – Engage subscribers with content related to their stated interests and preferences.
Purchase History – Curate email content based upon items customers have previously purchased.
Abandoned Shopping Carts – Send special offers and reminders to customers who left the checkout process early.
Lead Magnet – Simply segment customers so you can target them with emails based upon the lead magnet that led them to subscribe in the first place.
Here are some tools that can help:
Constant Contact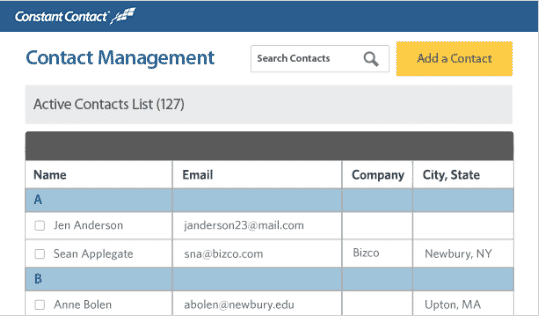 This is a popular email campaign tool that allows you to import email addresses from a variety of sources. Then, you can organize these according to categories. Later, when you create email marketing campaigns, you can use Constant Contact's segmentation tools to precisely target the right audience members.
Intuit Mailchimp
Mailchimp is a full service, email marketing campaign tool. It's deservedly popular, and well worth consideration. Here, we'll look at the tool's segmentation module.
Intuit Mailchimp allows you to manually enter subscription information, or to import it. As you add subscribers, you are able to add tags that remain associated with each customer. You can then optimize those email lists through segmentation. When you create a campaign, you can add or create a segment that you will use to target the right customers. This is where the tags are useful as well, as these can be used as segments as well.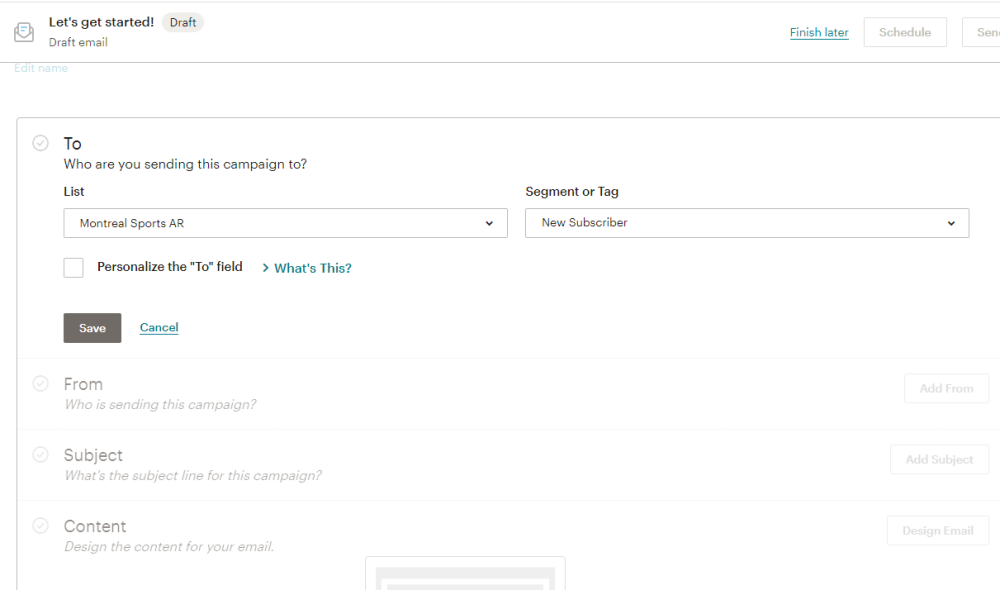 Not only does it do you a disservice to target people with email content that aren't interested, GDPR and other regulations mean that you could be in hot water if you use customer contact information in any way for which they haven't given you express permission. In fact, many of the tools listed above have processes in place to ensure that subscribers have been properly opted in. Obtaining appropriate permissions is so important, and your opt-in process must be impeccable. Here are some best practices:
Use a double opt-in to ensure that you are only targeting people who are truly interested.
Avoid opting people in automatically.
Provide an unsubscribe option that is easy to locate and use.
Use Captcha to prevent bot signups
Reiterate exactly what subscribers are opting into when you send confirmation emails
List Segmentation Strategies
Creating email segments that actually get results is a challenging undertaking. However, as you see the fruits of those efforts, it becomes clear that developing a solid list segmentation strategy is worth the time and resources you invest.

Cory Neal, COO of The Word Point
Once of the challenges of segmenting emails is collecting the information you need. In order to get subscriptions, one of the most effective strategies is to require that customers provide a minimum amount of information. That helps to increase subscription rates, but can leave you with very little information to use for targeting purposes. Here are a few ways that you can increase the amount of data you have for your subscribers.
Collect information through surveys, tests, and quizzes.
Use email engagement metrics to identify inactive, barely active, and highly engaged subscribers.
Connect subscription information to past purchases
Merge customer support data with email subscription information
The next step is defining the segments you want to use, and determining which subscribers to put in each category. We mentioned several above. There's also location segmentation, demographic data, the industry they work in, and interests. You can also segment based on changes in customer behavior. There are several options for you to consider.
Creating Email and Newsletter Content That Converts
In order for your email marketing efforts to succeed, you have to target your audience with content that is relevant to them, drives them further down the funnel, and builds a sense of trust in your brand. Segmenting your lists so that you can target your emails effectively is only the first step. Here are some other things to consider.
Use Dynamic Emails to Personalize Content – With dynamic content, your emails contain HTML code that modifies the content of that email depending on the recipient. With this technology, the offers, stories, and calls to action each recipient sees depends on their particular traits and behaviors.
Use Headings and Subheadings That Communicate Value – Getting people to click into your email is challenging. When they do click, you still have more work to do. You still have to motivate recipients to engage with your content and read further. To do this, sell each story by using a heading or subheading that clearly communicates the benefit of engaging further. For example, '10 Tips For Caring For Your DVD Collection' doesn't really communicate benefit. '10 Tips For Increasing The Resale Value of Your DVD Collection' does.
Incorporate Calls to Action That Nudge Readers Through the Funnel – Calls to action aren't just for landing pages. For every piece of content you share, there should be some action for the user to take. For high funnel content, this could be clicking to view some additional videos or to read a relevant blog post. For low funnel customers, the CTA could lead them to a landing page to request a price quote or free trial.
Create and Curate Current and Relevant Content – People often use email newsletter content for promotional purposes only. This is as big a mistake as using your blog or other social media platforms for promotions only. Nobody wants to engage with a brand that only talks about itself. Instead, balance a small amount of promotional content with content that educates, informs, and entertains. Some of this can pertain to your products and services, e.g.: how to content. You can also use tools such as BuzzSumo to identify trending topics in your niche, or headline aggregators like AllTop to identify hot topics that appeal to a broader audience.
Conclusion
The success of your email campaigns heavily relies on your ability to collect and manage email data, then target your audience with the right content. By employing the strategies here, you can best ensure your efforts are successful.
Disclosure: Martech Zone is including affiliate links in this article.