Conversion tracking is a key component of any website's analytics implementation. Off-the-shelf analytics can not identify whether or not a visitor actually converted. For some websites, a conversion is when a whitepaper is downloaded, for some it's an email subscription, and for ecommerce sites it's an actual purchase that's made on the site. Some conversions happen offsite when a prospect calls and closes.
In order to measure conversions, a tracking pixel or conversion pixel is placed on the confirmation page after the conversion. Basically, the tracking pixel is loaded utilizing a script that passes information regarding the conversion back to the system that is going to measure. Facebook conversion tracking allows you to measure how well your ads are converting… a much more important metric than impressions and clicks!
Inside Facebook walks you through setting up conversion tracking with your Facebook ads.
Click the Conversion Tracking tab from power editor, or go to https://www.facebook.com/ads/manage to access power editor from your ads manager
Click Create Conversion Pixel located in the top right corner of the page
Give your conversion pixel a name and select a category from the dropdown menu
Click Create
A pop-up box will appear where you can click View Pixel Code. This is the code you will need to integrate into the web page where you want to track conversions.
More important to this announcement, though, is the opportunity for advertisers to optimize their ads based on conversion rather than clicks. Enabling optimized CPM on an ad not only reports on the conversion, it also provides additional data back to the Facebook Ad engine to serve ads based on conversions rather than clicks. That's a great feature.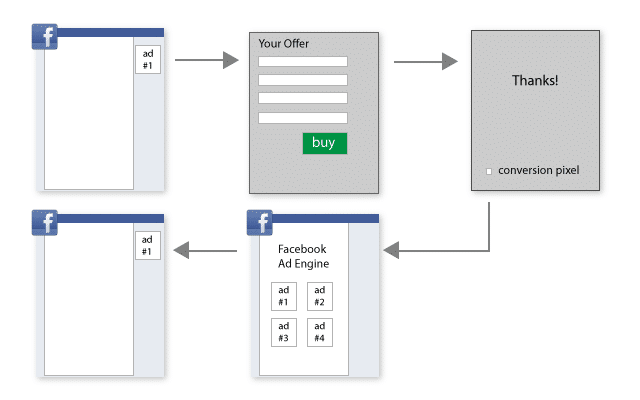 Per the Facebook support documentation on Optimized CPM:
Goals can be specified in absolute or relative value, i.e. how much the fulfillment of a particular goal is worth to an advertiser. These values are not bids. For Optimized CPM using absolute values, the bids should be the value an advertiser places on each of those connections, when using relative values, the bids should be percentages reflecting the weight an advertiser puts on each goal and should add up to 100%.
The system will automatically bid on behalf of the advertiser, while remaining constrained by the campaign budget they define and the values they specify. The dynamic bids allow the system to capture the highest-value impressions for your goals, and you should expect the total ROI on the campaign to exceed that of either a CPC or a traditional CPM campaign.
At this time, advertisers can optimize their campaigns based on the following goals:
Actions: Actions that happen on Facebook, e.g., Page Likes and App Installs.
Reach: Number of times an impression was served to a user for the first time in a day.
Clicks: Number of clicks received.
Social Impressions: Impressions with social context, i.e. with the names of one or more of the user's friends attached to the ad who have already liked the page or installed the app.
Optimized CPM is a marked improvement in managing an ad budget and ensuring that you're reaching your business goals with your Facebook Ad strategy.