It's the second day with Mozilla Firefox 3 and I've already dislodged Safari from my dock. The browser is quite fast (I'm guessing until all my popular add-ons and a few security updates arrive). I believe it's worth the upgrade and I can wait a few days until the add-ons are up to speed.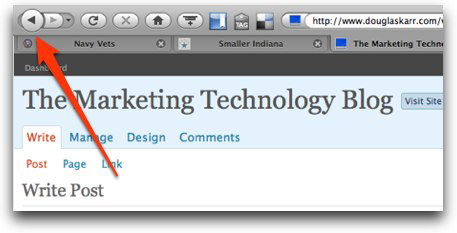 Usability Improvement on the Button Layout
The most noticeable change when you launch FF3 is the larger back button in the Toolbar. Kudos to the interface team on this change. Typical layouts of menu systems in applications set importance by position, but Mozilla designers decided to take it a step further by enlarging the back button. This is a great change… users are definitely more likely to utilize this button more than any others; as a result, the size and positioning are great improvements.
Some Tweaks in Firefox 3
If you type about:config in the url bar in Firefox 3, you have some access to some settings that are both fun – and dangerous. Here are a couple of my favorites I've already modified:
general.warnOnAboutConfig – if you don't like the warning when you open about.config, double-click this to turn the warning FALSE.
browser.urlbar.autoFill – double-click to TRUE and your URLs will auto complete based on your history.
browser.urlbar.doubleClickSelectsAll – double-click to TRUE and when you double-click in your url bar, it will select the entire URL rather than a chunk of it.
general.smoothScroll – double-click to TRUE and it scrolls the pages in your browser nicely.
layout.spellCheckDefault – set this to 2 and you can spell check all fields, not just the text areas!
Easter Eggs: A message from the Robots
Type about:robots in the url bar for a great chuckle! Nice to see developers that have a sense of humor. I wish more applications would add Easter Eggs like this.
about:mozilla is another egg (I think it's been in each version).
The one Add-on I can't do without
The Delicious Bookmark Add-on is simply fantastic. If you're still saving bookmarks in your browser, STOP IT! Del.icio.us allows you to share links, organize them, tag them, and even post them to your blog.
The feature I wish could be updated
I like the feature in Internet Explorer that colors the url bar green on secure sites. I wish there was an about:config setting for that.