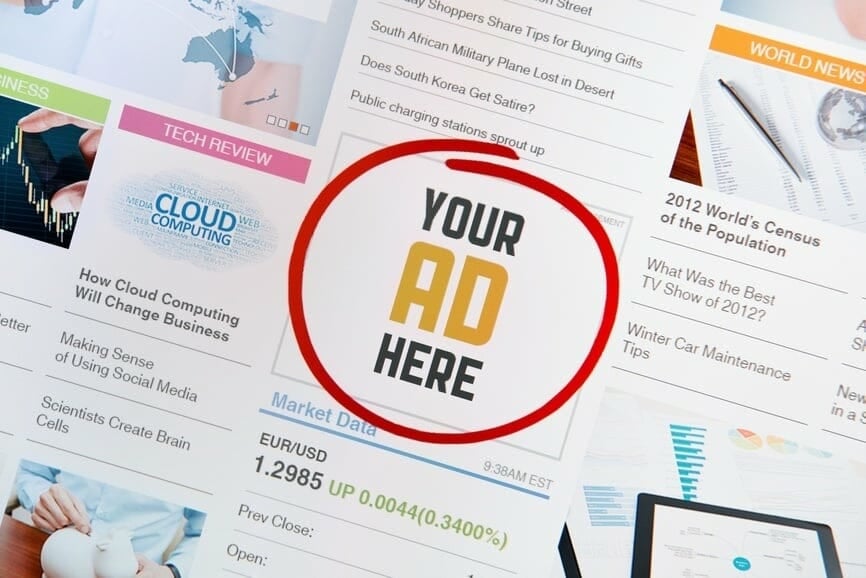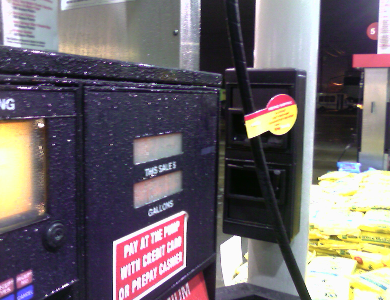 Speedway is the place for me to gas up.
For a gas station, I must admit they do that little 'extra' for the inevitable trip to the gas station. For one, I carry around my Speedway rewards card that I've saved up 15,000 points on. I'm ashamed to admit that I have no clue what that means, other than every once in a while I get a useless coupon for a deli sandwich or something. But… it feels cool every time I see my little reward points keep going up. (Any advertisers listening? Points work!)
The other great thing about Speedway is that the women there are always talking to the customers, cleaning up, making sure the lines are kept short… and they do cool things like put nutmeg and cinnamon over by the coffee. And there is a LOT of coffee. Note to coffee buffs… Speedway coffee can't beat a Starbucks but it does kick butt over the crap at the fast food joints.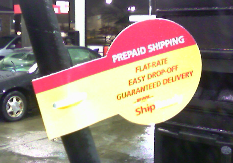 So the other morning I gassed up and lo and behold there was a DHL advertisement at eye level on the gas hose. On the gas hose! ON THE GAS HOSE! Please… leave the sanctity of my gas hoses alone! I just want to stand there and imagine how much pressure is behind that hose, how often it's been inspected, and if it sprang a leak, would the Speedway blow up like some cool Mission Impossible scene. I don't want to read an ad from DHL on some kind of shipping deal. I really don't. Please believe me. I don't. I promise.
A couple questions:
Besides the printer, who will actually made money on this?
How in the world does putting gas in my car equate to curiosity about who the best shipper may be to handle my holiday goods?
What demographic or behavioral targeting am I matching when pumping gas that would interest a marketer enough to throw this ad up in front of my face?
How many marketing meetings went into this? It's okay, you can tell me. I won't tell anyone. It was that 2006 strategy meeting last December, wasn't it? You were hyped up on peppermint mochas. I know. I've been there.
I just don't get it. Visibility is NOT advertising. The history books are full of companies who spent millions on Super Bowl ads. Everyone saw them, but no one purchased from them. Find your audience, speak to them the way they want to be spoken to, and treat them well.
Good luck with your ad DHL! I happen to like the package guy next to Thai Gardens (and I love Thai Gardens) on County Line Road here in Greenwood. He's more expensive than everyone, but he always helps me find the right box, the right packaging, and the right way to get it there. He never fails me… and the lines are always shorter than everyone else!
If Gas Hosevertising were to work, it should be the Goodyear across the street advertising there. You happen to look at your tires for at least a few minutes while pumping gas, wondering if the treads are wearing too low.