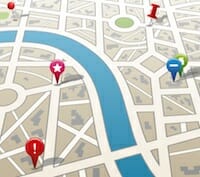 At times like these, I know that I'm a geek! Today the Google Code Blog just announced that they are now supporting KML files.
"Doug, calm down", you say!
I can't! I'm freakin' out! Where you used to have to programmatically plot points on a map, you can now simply 'point' to a KML file and Google Maps will automatically plot it on their map.
"Yea, sure", you say!
Here's an example of a KML file:

<?xml version="1.0" encoding="UTF-8"?>
<kml xmlns="http://earth.google.com/kml/2.1">
<Document>
<Placemark>
<name>Doug</name>
<description>Did you know they just opened Au Bon Pain right here?</description>
<Style>
<IconStyle>
<Icon>
<href>https://martech.zone/wp-content/uploads/2006/06/me2.thumbnail.jpg</href>
</Icon>
</IconStyle>
</Style>
<Point>
<coordinates>-86.158160,39.767480,0</coordinates>
</Point>
</Placemark>
</Document>
</kml>

Using Google Maps, I simply point the map to query my KML file:
http://maps.google.com/maps?q=http://www.yourdomain.com/location.kml
"Wow", you finally say! (I hope!)
Here's what it looks like: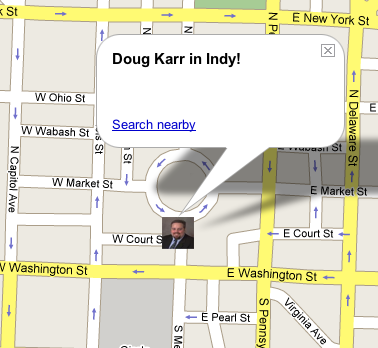 Seriously folks. Where XML is the universal data exchange format, KML (which is XML) is the universal geographic data exchange format. This is a great step forward. Using other GIS programs, people can output KML files and then simply open them online with Google Maps.