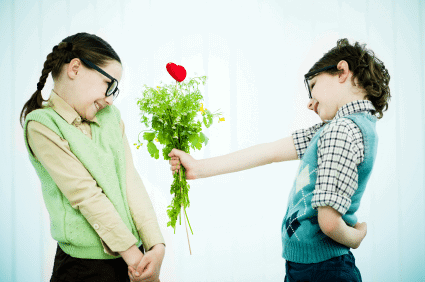 Guest blogging is an intricate and delicate process that should be treated like the beginning of any relationship: seriously and with care. As a blog owner, I can't tell you how many times I've been emailed terribly written, spammy emails. Blogs, like relationships, take a lot of effort and a potential guest blogger shouldn't treat it as a frivolous process.
Here are 7 surefire dating tips for guest posters to court a blogger:
1. Get to know your potential match
Before you bombard a blogger with your article pitches or submissions, get to know the blogger.
Read their About page, learn their name, follow them on Twitter, and read a few blog posts to learn their blog's voice.
If you really want to make an impression, leave comments on their posts, reply to their tweets, share their articles that you enjoy with your network.
Think about a few article ideas that would work for the blog. What is missing from this blog? What would work? See what is trending in their niche and what people are talking about on social media.
2. Make the first move
Ok, you've built up trust with your blogger and are ready to take your relationship to the next level. You know that this blog will be a perfect fit for you and you have an idea of what you'd like to pitch or submit to the blogger. Now is the time to make your move.
After you've read the blogger's guidelines, contact them via their preferred medium. If they don't list guidelines or a preferred mode of communication on their blog, ask them!
When contacting, be personable—be you! Let them know who you are and why you are contacting them—to guest post!
3. Be a gentleman
Just as you would open a door for a lady, bloggers like to be charmed too.
Make it easy for the blogger. Once your article is submitted (according to their guidelines), add photos and fill in any additional WordPress info. This might include tags, a featured image and SEO requirements.
Be sure you credit any photos used and have zero grammatical or spelling errors. This may seem obvious, but first impressions are everything when it comes to relationships and guest blogging.
4. Don't be a Clinger
If you submit your post and it doesn't go up that same day or even the next day, do not pester the blog owner—just as you wouldn't repeatedly call or text your date when you're first starting to build a relationship!
After three to seven days, send them a non-threatening check-in tweet or email. Don't be rude!
Check up on the blog or Twitter account to see recent activity; no new updates could mean the blogger is busy with other things.
5. Brag about your new relationship
When you strike it lucky in love, most of us want to shout from the rooftops. Treat your published post with the same enthusiasm.
Once your post goes live, share with your social networks. Bloggers love to see posts being socially shared! Getting a great quality blog post is like a nice dinner and social shares is the creme brûlée!
6. Don't take advantage
Anyone else is tired of blog owners wanting compensation for guest posts? You mean, I'm giving you great quality, relevant, trending content and you want me to pay you?
Try to kindly tell the blog owner you aren't in position to pay them, but you'd be happy to reciprocate their generosity for publishing your post by connecting them with other bloggers and socially sharing your article.
Most of the time, a blog owner will be kind enough to oblige; they only want to know they are getting something out of the relationship and not being used!
7. Work toward a long-term relationship
Dating, like guest blogging, can be exhausting; when you find a good fit, put the work into keeping the guest posting flame alive.
Keep in contact with the blogger. Continue to write for them, email them, tweet and connect them with other bloggers.
Guest posting is about building relationships with people online and getting exposure. You never know, they may even recommend you or introduce you to other friendly blog owners.