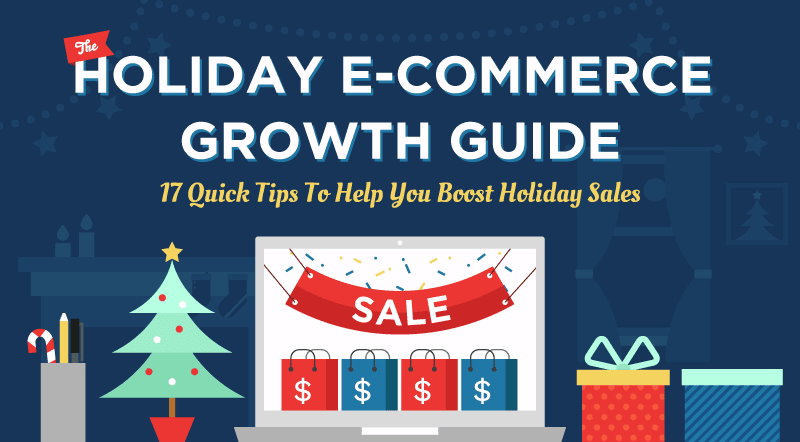 The clock is ticking, but it's not too late for e-commerce providers to tune up their sites to drive more conversions. This infographic from the conversion optimization experts at the good lays out 17 solid optimization tips that you should be implementing immediately if you hope to capitalize on holiday purchase traffic this season.
There are three key strategies that you should always be deploying that are proven to always drive additional conversions for holiday shoppers:
71% of holiday consumers are attracted to free shipping
48% of holiday consumers are attracted to easy returns
44% of holiday consumers are attracted to price matching
17 Additional Holiday Ecommerce Conversion Tips
Promote your offers on peak holiday purchase dates – including Thanksgiving Day, Black Friday, Cyber Monday, Green Monday, and Free Shipping Day.
Upsell and cross-sell to increase average order value – consider offers like free shipping with your purchase, bundle products, provide limited time offers and more.
Don't require registration at checkout – shoppers who have to fill out a bunch of extra information are more likely to abandon their cart.
Optimize for mobile – more shoppers are researching on their smartphones. If you're not ready, you'll miss out.
Make sure pages load quickly – ecommerce sites often see record traffic during the holiday season. Don't let a slow or broken website hurt your business.
Increase email frequency – your visitors are more prepared to purchase during the holiday season. Don't miss your opportunity.
Decorate! – give your site a suitable festive feel to heighten the emotional shopping experience. Even better, use humor to make them remember you.
Build your email list with a gift – turn more visitors into regulars. Explore your customer acquisition cost and consider including a free gift to engage new visitors.
Create a sense of urgency – final shipping dates and flash sales can create a sense of urgency that will help more visitors convert quickly.
Make discounts attractive – explore different ways of pitching your discounts. Should you do 50% off, $25 off, or buy one get one free?
Provide quality customer support – real-time customer support via live chat, social media, or phone can help overcome barriers to purchasing on your website.
Make gift cards easy to purchase – when a visitor doesn't have the perfect gift idea, gift cards are a great option. Make it simple.
Use a loyalty program to bring them back – bringing back your fourth quarter customer can help drive sales during a slower first quarter.
Provide special offers in exchange for reviews – reviews can help drive conversions year round. Take advantage of your higher traffic to increase the reviews on your products.
Offer free return shipping – a generous return policy will instill customer confidence and bring customers back even after the holidays.
Help them make it personal – make it easy for your customers to include a note with a purchase on any gifts.
Offer free gift wrapping – when you offer free gift wrapping, you're relieving a customer headache. The more headaches you relieve, the more likely they are to engage with you.
Here's the full ecommerce infographic from the good