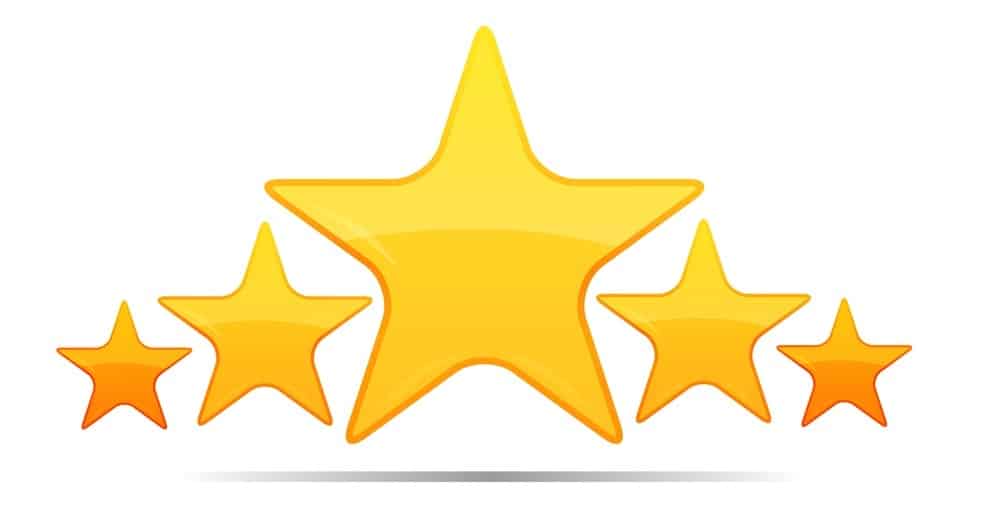 Google rolled out an AdWords feature late in July to help shoppers make more informed buying decisions. Product Listing Ads (PLA) across Google.com and Google Shopping will now have product or Google shopping ratings.
Think Amazon and that's exactly what you'll see when you search for products and services on Google. The product ratings will use the 5-star rating system with review counts.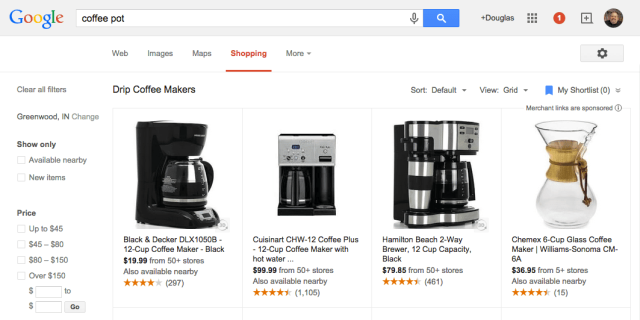 Let's say you're in the market for a new coffee maker. When you Google search for the product, the results will give you a list of available products along with their ratings and review counts. This new Google Ads feature is available for shoppers in the United States at the moment.
How Product Ratings Help Shoppers
For shoppers, the benefit is pretty obvious. With ratings efficiently segregating products and services, purchasing decisions may be more informed and can be finalized faster. Shoppers need not go through all the reviews to gauge how a specific product fares with other consumers.
Critical information that helps shoppers decide is easier to find. There's no need for consumers to do another search because product reviews are right there on the Product Listing Ads thanks to the new AdWords feature.
How Product Ratings Affect Merchants
More than what the new AdWords feature does for shoppers, product ratings are believed to be useful for merchants in a number of ways. With ratings setting products and services apart across Google searches, Product Listing Ads can help generate more qualified traffic for merchants. Initial tests in beta also show a 10 percent increase in click-through-rates on Product Listings Ads.
To illustrate further, let's go back to our coffee maker example. When searching for the item in Google.com or Google Shopping, what shoppers will see is a list of sponsored shopping results. One item may have a four-star rating with 230 user reviews. Another with a 4.5-star rating with 3,427 reviews and so on. Google further segregates the items into most popular and people also considered.
When shoppers click on the ratings, they are redirected to a new window where there are more details about the rating. The in-depth report may include details such as customer service, claims handling, discounts, cost, purchase ease, website quality and of course, overall satisfaction. Also included in this window is a link to the merchant's homepage increasing chances for a click-through.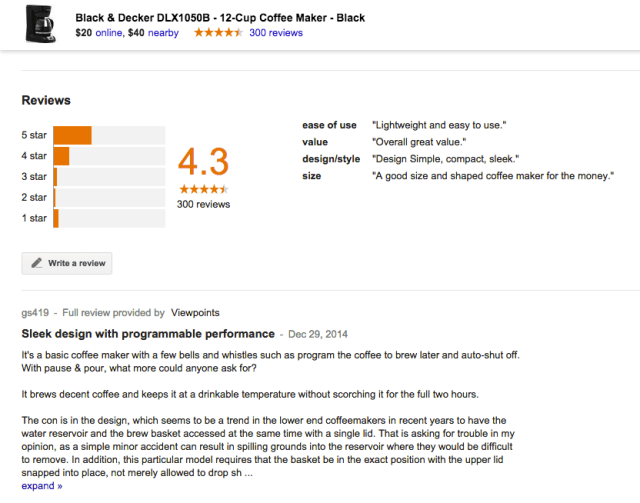 AdWords Product Ratings, in short, offer merchants another way to stand out from the competition while increasing CTR percentage and eventually profitability.
Where Google Gets the Data
Helping shoppers make decisions with Google shopping ratings while increasing your product's exposure and CTR are all good. But how legit are the ratings really? Where did the data for the ratings come from?
According to Google, the product rating is a compilation of rating and review data from multiple sources. Ratings may come from merchants, users, third party aggregators and editorial sites combined together to show an aggregate representation of said rating.
The data, in other words, comes mainly from Google Consumer Surveys which is the search engine's way to obtain consumer feedback. The final ratings shown on the search results are based on usually over 1,000 surveys. Updates are also continually implemented as overall opinion on the company, product or services changes.
Who Can Use the Product Ratings Feature
Ratings for Product Listing Ads are only useful for merchants and advertisers who are targeting US shoppers. To enable the feature, merchants must choose to share all their product review data either directly with Google or through a third party aggregator. Approved third party sources include Bazaarvoice, Ekomi, Feefo, PowerReviews, Reevoo, ResellerRatings, ShopperApproved, TurnTo, Verified Reviews, Viewpoints, Yotpo.
Merchants must have at least three reviews to be eligible. Google is also giving merchants ample time to decide whether to share review content or otherwise starting from late July through October. During this period, all Product Listing Ads will have the product ratings feature shown for those with review data. Come November, product ratings will only be shown if the merchant chose to share reviews for their respective products.
How to Enable Google Product Ratings
If Google has gathered sufficient review data for your products, the ratings should automatically appear on your listings. If you want to make sure, however, that the ratings will still be there after the grace period, might as well complete the product ratings form today.
If your business uses PLAs, this is one opportunity to take advantage. Good ratings attached to your listings are one way to attract and help shoppers with their buying decisions. Bad ratings, on one hand, may draw just as much attention away from your products. So keep in mind that ratings change over time. To continually stay on top, there is no better way to do business than offer great customer service and only the best products. Aim for a 5-star rating every time and for your business the only direction is up.