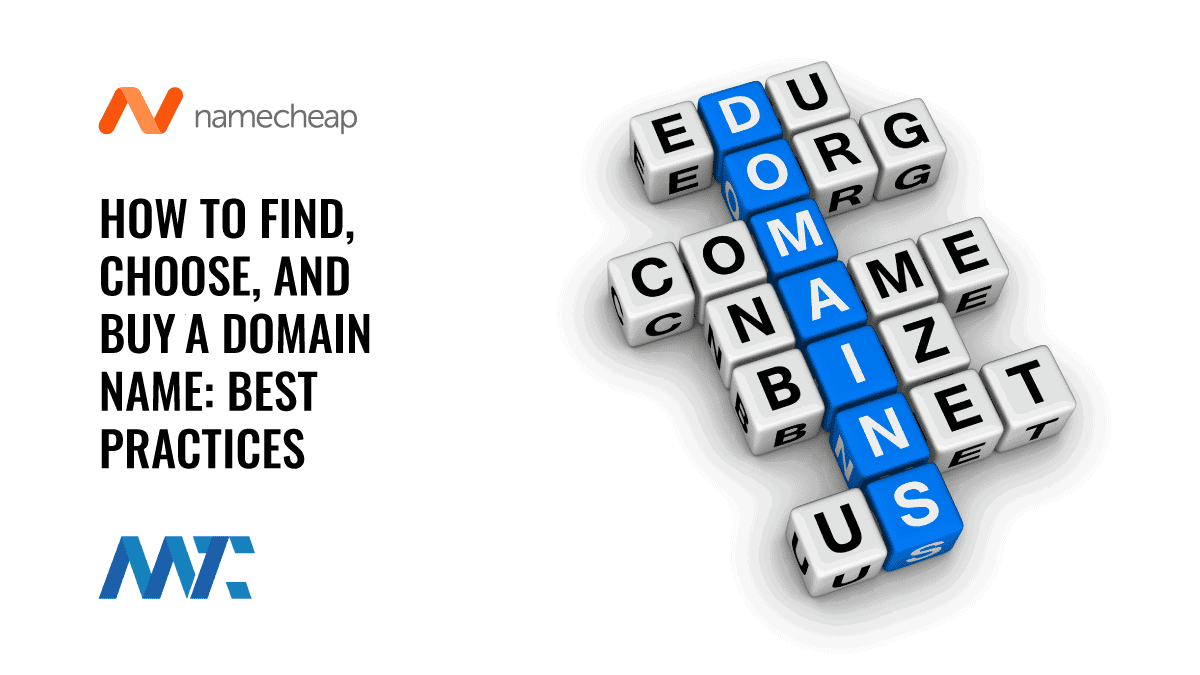 If you're trying to find a domain name for personal branding, your business, your products, or your services, Namecheap offers a great search for finding one:
Find a domain starting at $0.88
Search For A Domain On Namecheap
6 Tips On Choosing And Buying A Domain Name
Here are my personal opinions on choosing a domain name:
The shorter the better – the shorter your domain, the more memorable it is and easier to type so try to go with a short domain. Unfortunately, most domains under 6 characters have long been reserved already. If you're unable to find a single, short name, I would try to keep the number of syllables and words to a minimum… again, to try to remain memorable. As an example, Highbridge was taken across every top-level domain, but we were a consulting firm so I was able to purchase both highbridgeconsulting and highbridgeconsultants… long domain names with lots of syllables, but memorable because there are just two words.
Different TLDs are becoming accepted – Behaviors continue to change with regard to users on the Internet and their use of domain names. When I picked a .zone top-level domain (TLD), some people advised me to be careful… that many people may not trust that TLD and think I was some kind of malicious site. I selected it because I wanted martech as the domain, but all the other TLDs were already taken. In the long run, I think it was a great move and my traffic is way up so it was worth the risk. Just keep in mind that as someone types a domain without a TLD, there is a rank order of attempts… if I type martech and hit enter, the .com will be the first attempt.
Avoid hyphens – avoid hyphens when purchasing a domain name… not because they're negative but because people forget them. They'll constantly type in your domain without them and most likely reach the wrong people.
Keywords – there are different combinations that may make sense for your business:

Location – If your business will always be locally owned and operated, using the name of your city in the name may be a great way to differentiate your domain from your competitors.
Brand – Brands are always advantageous to use because they're often uniquely spelled and not likely to be already taken.
Topical – Topics are another great way to differentiate yourself, even with a solid brand. I own quite a bit of topical domain names for future project ideas.
Language – If an English word is taken, try using other languages. Using a French or Spanish word in your domain name can add some pizazz to your business's overall branding.

Variations – As you buy your domain, don't hesitate to buy multiple versions of it and misspellings of it. You can always redirect other sites to your own to ensure your visitors still get where they want to go!
Expiration – We've assisted a few clients who lost track of their domains and how long they had registered them only to have them expire. One client lost their domain altogether when someone else purchased it. The majority of domain services now offer multi-year registrations and automated renewals – take care of them both. And make sure the administrative contact for your domain is set to an actual email address that is monitored!
What If Your Domain Is Taken?
Buying up and selling domain names is a lucrative business but I don't think it's a great long-term investment. As more and more TLDs become available, the opportunity to buy a short domain on a new TLD gets better and better. In all honesty, I don't even value some of my domains as I once did and I'd let them go for pennies on the dollar nowadays.
However, if you're a business that is adamant about buying a short domain that's already taken, most are up for bidding and sale. My advice is simply to be patient and don't go too crazy with your offers. I've negotiated the purchase of several domains for large businesses that didn't want to be identified and got them for a fraction of the cost the seller was asking. I also always check to see if social channels are available for them as well to reserve. If you're able to get your Twitter, Instagram, Facebook, and other social nicknames to match your domain, that's a great way to keep a consistent brand!
If you're not looking to buy the domain, you can do a Whois lookup of the domain registration and set yourself a reminder for when it expires. Many companies buy up domains only to let them expire… at which point you can buy them when they become available again.
Disclosure: This widget uses my affiliate link for Namecheap.