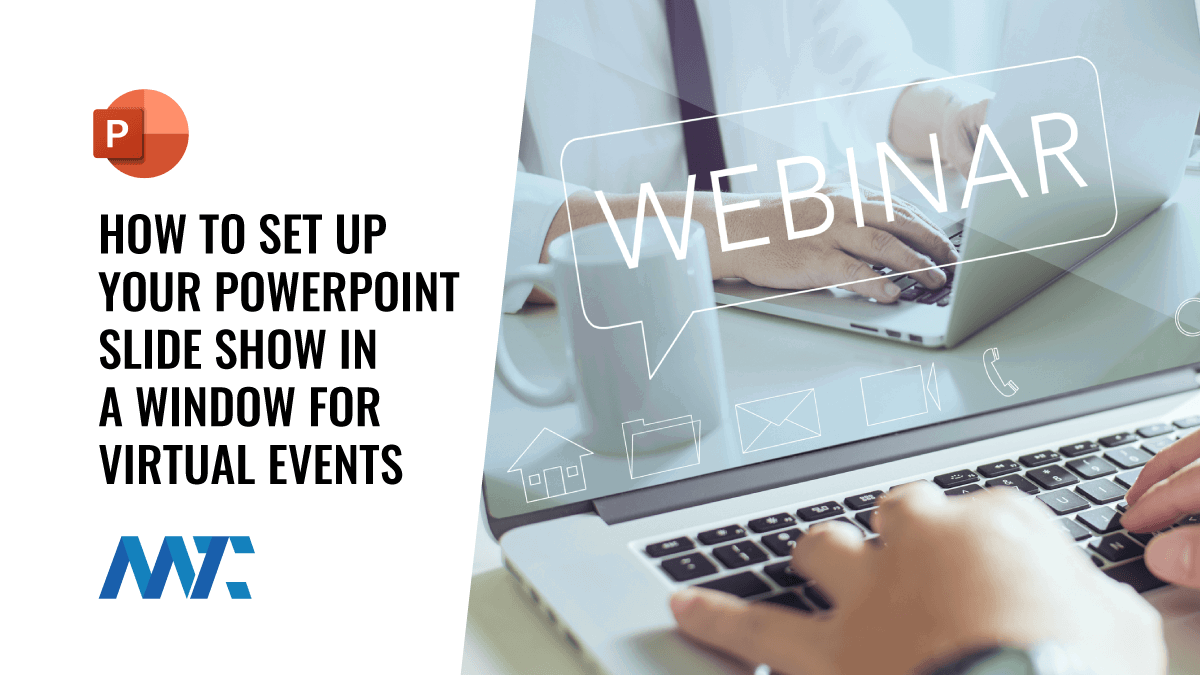 Event Marketing
How To Set Up Your PowerPoint Slide Show In A Single Window for Virtual Events
As companies continue to work from home, the number of virtual meetings has skyrocketed. I'm actually surprised at the number of meetings where the presenter has issues actually sharing a PowerPoint Presentation on screen. I'm also not omitting myself from this… I've goofed a few times along the way and delayed the start of a webinar due to issues I've injected.
One absolute setting, though, that I ensure is set and saved with every online presentation I do is the ability to launch the PowerPoint presentation in a window rather than the default of Presented by a Speaker which can wreak havoc… especially if you're working with multiple screens. It may hide your actual conference software navigation and open windows on different screens… and be confusing all around.
PowerPoint has a fantastic… yet difficult to find… setting where you can have your Slide Show open in an individual window instead. This setting enables you to easily open the Presentation in the Slide Show mode, but in a single window that's easy to share within Zoom or any other online webinar or meeting software and easily control your presentation using your mouse, remote, or arrow buttons.
PowerPoint Slide Show Settings
If you open up your presentation for editing, there's a Slide Show menu in the primary navigation. You'll want to click Slide Show Settings:

When you click Set Up Slide Show, you'll be provided with the option to set up the Slide Show in an individual window. Check this option, click OK… and Save Your Presentation. The last may be the most important step if you're prepping and will be opening your presentation later when the webinar starts. If you don't save it with the setting enables, the Presentation will default back to Speaker mode.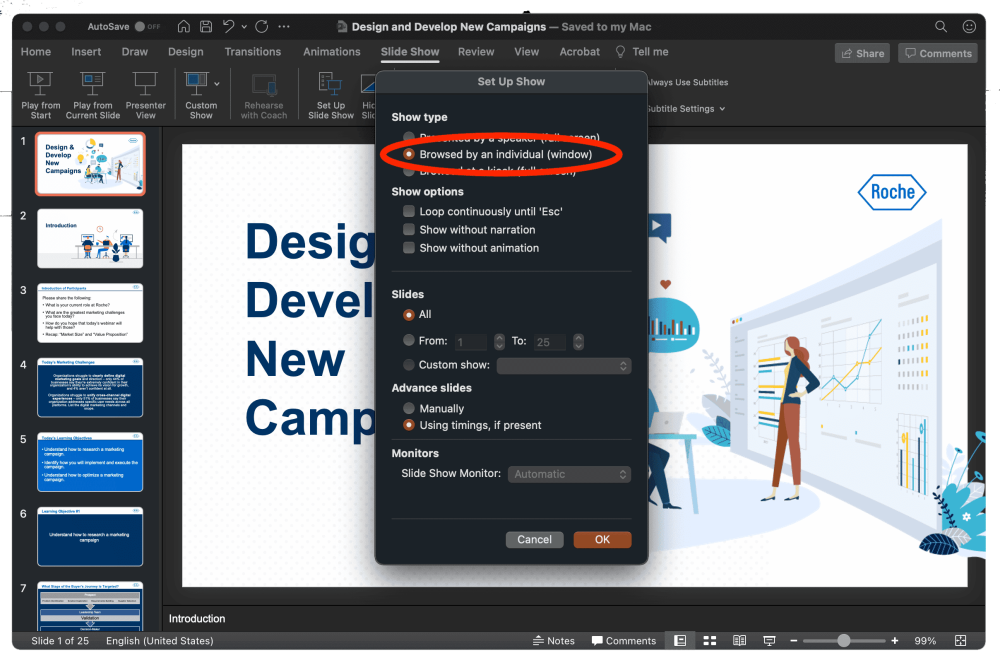 This presentation in my example is one digital course I developed with Butler University that's now being used internationally to train the team at Roche. We did the virtual workshop online using Zoom and incorporated Zoom's breakout rooms, Jamboards for activities, and handouts. Because of this, I needed every inch of my three screens to be able to view the rooms, the Jamboard sessions, the video of the attendees, chat sessions, as well as the presentation. Had I opened the PowerPoint in Speaker mode, I would have lost 2 windows to just the Slide Show… and probably hid a number of needed windows behind them.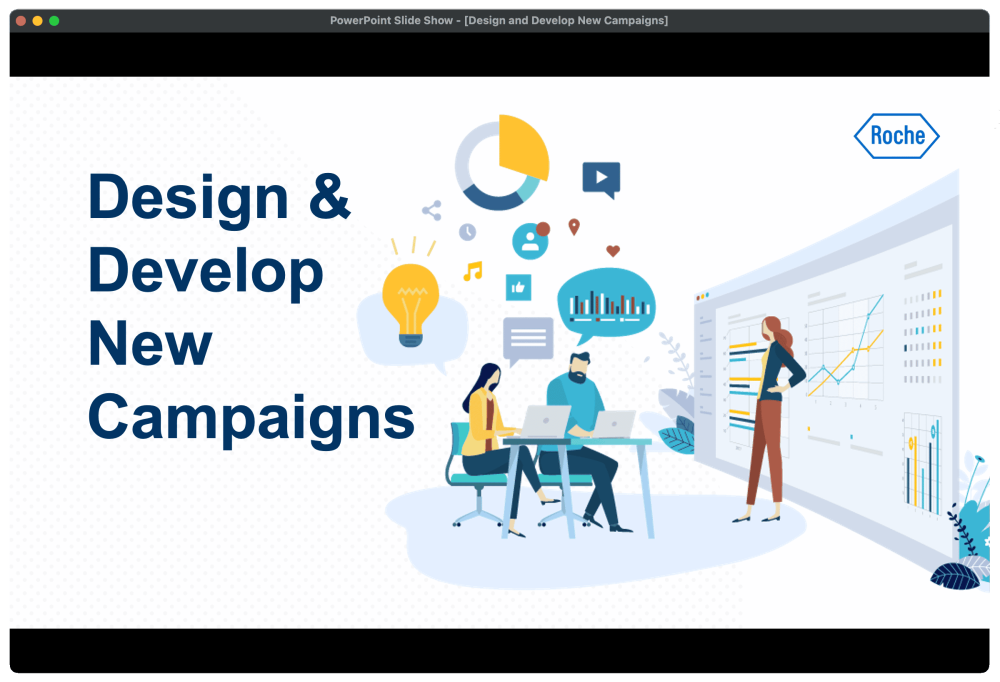 Pro Tip: Save This Setting With A Distributed Virtual Template
If you've created a Master Slide Show template for your organization, I'd actually recommend that you save the template twice… one for Speaker mode and the other for Virtual mode with this setting enabled. That way, as your team prepares its virtual presentations, they don't need to go looking for this setting. It will be enabled automatically when they create and save the presentation. When the start the show, it will just open right up into the individual window!
Keynote: Play Slideshow In Window
What about Keynote? Keynote actually has a play in window option which is kind of nice. If you click Play in the primary navigation, you'll see an option to just play the Slideshow in a window rather than full-screen. It doesn't appear that's a setting that can be saved with a presentation.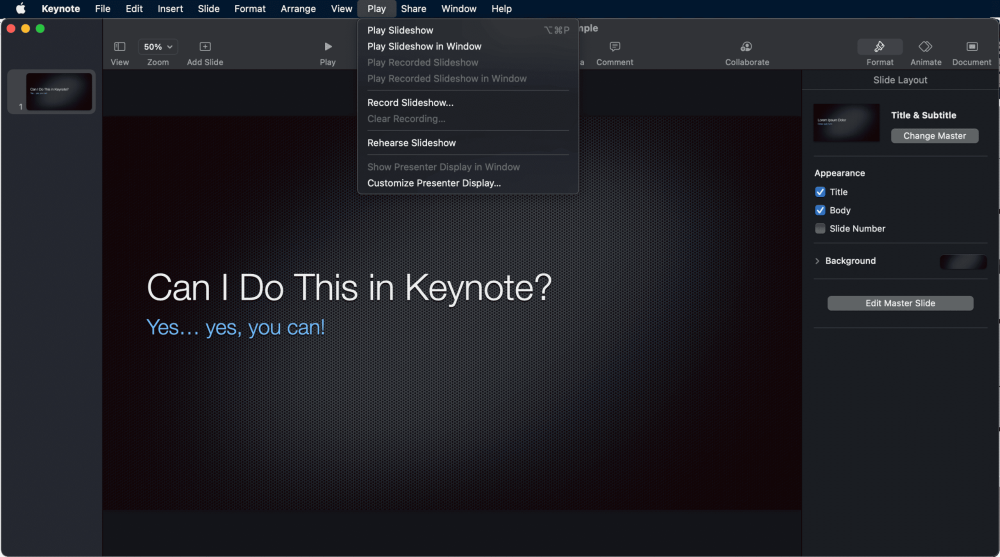 By the way… if you noticed that I use both Slide Show and Slideshow in this article, it's because Microsoft refers to a presentation going live as a Slide Show whereas Apple refers to it as a Slideshow. Don't ask me why some of these tech companies can't just adopt the same language… I just wrote it the way they did.