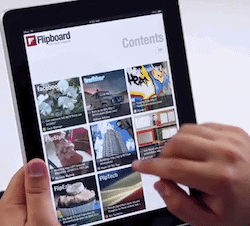 We had a couple folks complain that the blog had an issue on the iPad where they actually couldn't read the posts. This was about the tenth person that complained about our blog and the iPad so I finally broke down and we purchased a few. One is for me, one for Stephen, our developer… and the other one is for one of you lucky readers.
A few days later and I'm totally hooked. The iPad is a little heavier than I thought it would be, but it makes for a much lighter laptop bag when I head home each night. The screen definition is quite amazing and the interface is much, if not exactly, like the iPhone. I scoffed at purchasing one… it seemed like a waste of money without the phone and the camera (I heard the camera is coming out in March). It hasn't been.
I've already written about The Daily and my intrigue with this application that's delivering the news in a really cool way, but most of my love for the iPad is just the way developers have taken advantage of the touch and the real estate to provide a far better interaction.
The example that I love to show is Flipboard, an application that pushes all your content into neatly organized pages that you can simply flip through. You can also like them, reply on Twitter, forward, or send the article via email. The application is so simple to use that I've actually returned to my RSS feeds and am now devouring them each morning.
The key for marketers here is understanding that, again, user interaction is changing with your site. I'm not expecting everyone to go out and optimize a unique user interface just for iPad (even though we're looking into it now), but I would recommend you do more than simply make your site readable on one of these devices. As an iPad user, I'm officially bored with the typical site and I'm looking for the next great user experience.
This Week's Winner
This week, curiousmeboston@_______ won! We're waiting to hear back from them to see what prize they'd like to select. There are plenty of more prizes coming – including Formstack – build forms easily online, Vontoo – send voice reminders, and Tinderbox build, present and track proposals easily online!