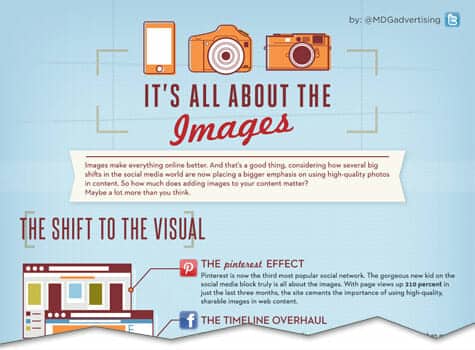 Every few weeks or so I'm bugging my boss to refill the stock photo budget. There's not a piece of content we distribute for ourselves or our clients that doesn't have some kind of representative image, graphic, or custom graphic assigned to it. We know, on Martech Zone, that when we select a great image to get our point across, more visitors read, more share, and more comment on the content. People are busy nowadays and pictures truly are worth a thousand words as you develop your content.
Images make everything better. And that's a good thing, considering how several big shifts in the social media world are now placing a bigger emphasis on using high-quality photos in content. So how much does adding images to your content matter? Maybe a lot more than you think.
While we know it to be true on Martech Zone, there's actually evidence that images truly are a key to success when writing and distributing content on the web.


It's All About the Images by MDG Advertising