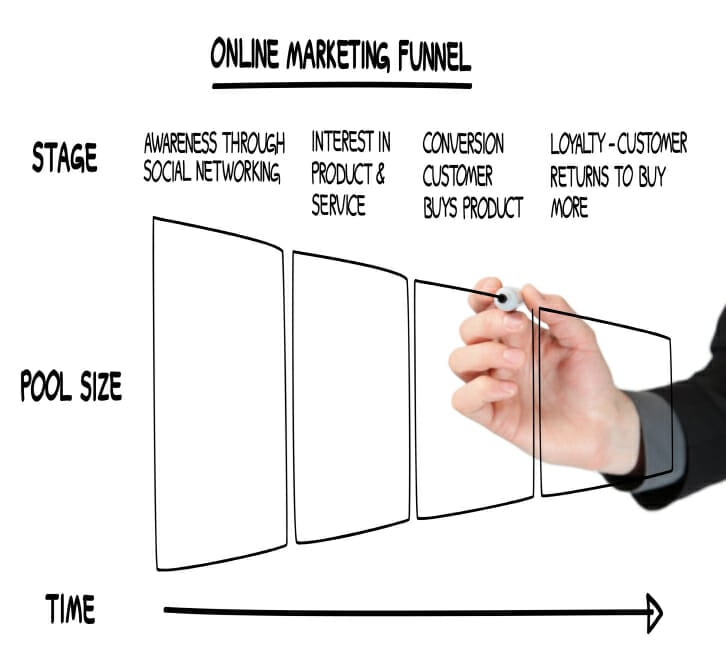 While I was preparing to speak in Cincinnati this week, I wanted to provide a nice visual that spoke to how search and social media have changed the sales process. Here's what I call the New Sales Funnel:
It used to be that marketers controlled the brand and the messaging online, requiring consumers and businesses to watch demonstrations, view brochure information and ultimately speak to a salesperson. At that time, they had made no purchasing decision. The salesperson could be incredibly effective in swaying the prospect and closing the sale.
With the advent of social media and search engines, consumers and businesses aren't just searching… they're now researching. This means that the prospect is well-armed on your company, your products, your services, how happy your customers are with you, and may even have a decision before they even connect with your salespeople.
Understanding this is critical if you want to effectively generate inbound marketing leads:
One of the more common mistakes I see is companies launching mega-sites that have so much information that they allow potential customers to disqualify you. Simplify your site, simplify your messaging and allow people to get curious enough to reach for the phone, view a demo or download a whitepaper.
If you provide a deeper dive into your offerings through demos, whitepapers, or case studies… always, always, always require the visitor to register before taking another step. People are used to trading their contact information to obtain the information they need. And those who take that additional step are worth making contact with as a qualified lead.
Hire intelligent and highly motivated salespeople. The day of the cheesy, high-pressure salesman is long past. When a salesperson picks up the phone, they're often met with someone on the other end of the line who already knows their business. Sometimes they understand it better than the salesperson! I still work with companies and sit in on their sales calls as a subject matter expert, sometimes it's all the difference.
Leverage technology to its maximum. If you understand how visitors are navigating to get to your site, you can apply customized messaging to them. If it's search, different keywords on different campaigns should result in different calls-to-action and landing pages. If it's Twitter, you may want a more conversational approach. If it's LinkedIn, a more professional approach. With VOIP and telephony advancements, it's even possible to ring different phones from different sources.
At minimum, begin visualizing and tracking all the different paths that prospects take into your business. Whether it's a referral or a pay-per-click advertisement, you must have a path to engagement to maximize conversion rates.