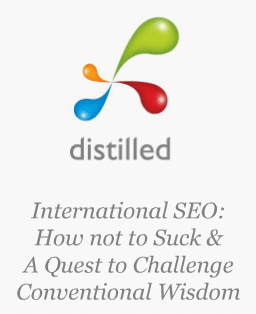 We've had the challenge and fun of working with a few clients on tips to take their site international when it comes to SEO. We also have other clients who don't want to rank internationally but get a ton of international traffic. Getting a search engine like Google to understand your intent for localization or internationalization isn't as easy as setting the target country up in Webmasters… it takes a lot more work.
Distilled is an international SEO consultancy that we hired to work with one of our customers and they provided some great advice that we were able to convert into results for 3 of our clients. Distilled recently did a presentation on some data analysis for taking your site international.
Some of the findings:
International top level domains work better than subdomains or subfolders. So, for example, if you want to be in Italy, get your domain with the .it tld.
Machine language translation is not effective. Just ask one of my clients who used the word member with a Russian machine translation… it got a few chuckles and a lot of apologies.
Having local addresses (remote offices) and phone numbers on the localized site works.
Having local outbound links on the site is basically ineffective.
Having local inbound links on the site isn't that important either… greater authority inbound links are better than local.
The presentation:

View more presentations from Hannah Smith. The data from Distilled's analysis will be released soon.