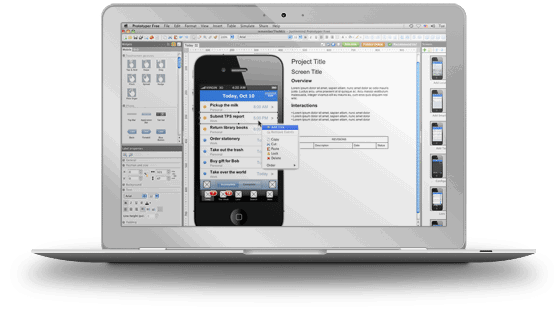 Justintime Prototyper allows you to build interactive rich web, mobile and tablet wireframes. Justintime Prototyper enables the creation of interactive prototypes with gestures and stunning effects. You can even prototype data-driven apps and form validations without a single line of code. View examples of Prototyper on their site.
Justintime Prototyper features:
Mobile Application Prototypes – Enjoy prototyping your mobile apps with a powerful but easy to use tool to design gestures, transitions, effects and even simulate responsive design. And you can test your prototype on the mobile device.
Collaboration made Easy – Publish, share and get valuable feedback from users and customers and get all your team working on the same prototype at the same time. You won't need to install any kind of server.
All-in-One App Prototyping Tool – Justinmind provides the most complete set of interactions and widgets for web applications but also for the main players in the mobile application space: iPhone, iPad, Android, and Windows Phone.
Justintime offers monthly, annual and perpetual licensing as well as a free version. Download your version now.