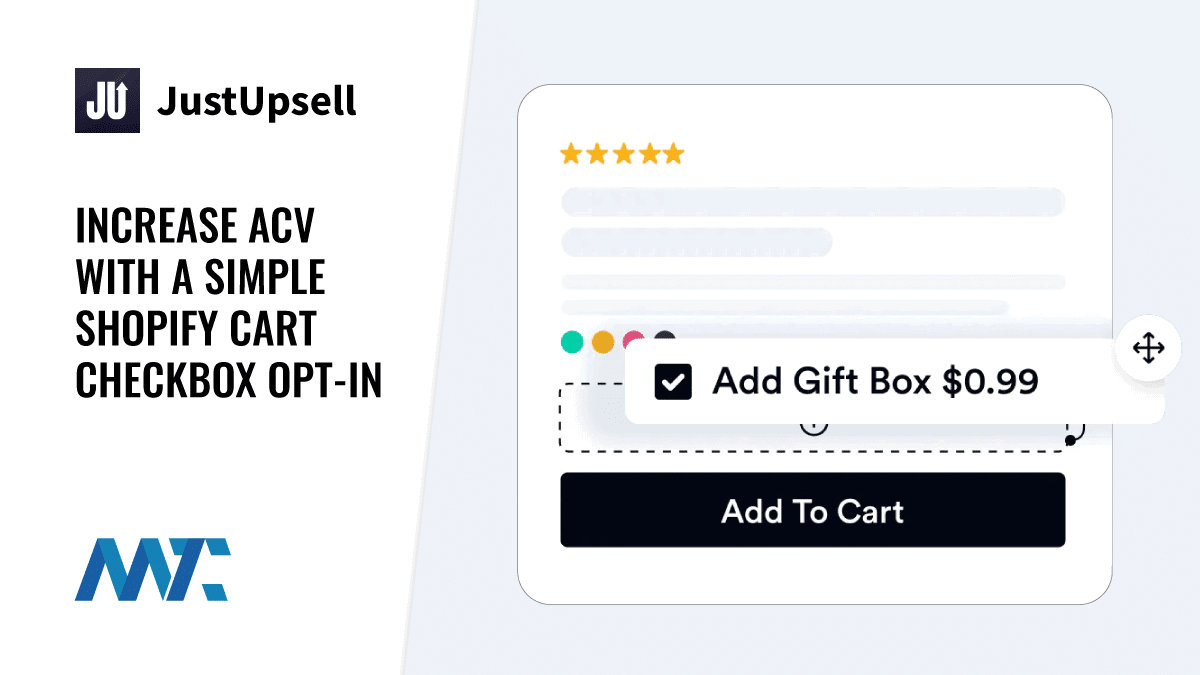 Ecommerce and Retail
JustUpsell: Increase Your Average Order Value With A Simple Shopify Cart Checkbox Upsell
There's a psychology to purchases that most brands ignore, known as foot-in-the-door. The tactic is this: Once a prospect has overcome whether or not to make a purchase, they're more likely to say yes to an additional expense. Trust is the biggest hurdle with online purchases, and once you overcome the trust factor, upselling or cross-selling requires far less effort.
It's not as simple as offering any product for an upsell or cross-sell, though. Finding a complementary upsell or cross-sell that is both related and doesn't break the budget. If a retailer can offer a low-cost option that's highly profitable, they can increase the average order value (AOV) – also known as average cart value (ACV) – and overall profitability of the brand.
Ecommerce Upsell Examples That Increase AOV
Here are some ideas for upsells that can help your online store increase AOV and profitability:
Accessories: When a customer purchases a product, you can offer accessories that enhance their experience or provide additional value. For example, if someone buys a smartphone, you can upsell them on a screen protector, phone case, or wireless headphones.
Gift Packaging: If customers purchase items that could be given as gifts, you can offer them gift packaging options for a small fee. This could include gift wrapping, gift boxes, or customized gift cards.
VIP Programs: Encourage customers to join your paid VIP program by offering them benefits such as exclusive discounts, early access to sales, or free shipping on future purchases. This upsell involves a long-term customer commitment but can provide them with added value over time.
Extended Warranties: For certain products, you can offer customers the option to purchase an extended warranty for an additional fee. This provides them with comprehensive coverage and peace of mind beyond the standard warranty period.
Remember, the key is to ensure that the upsell adds value to the customer's purchase and aligns with their needs and preferences. It's important to strike a balance between promoting additional items and respecting the customer's buying decisions.
JustUpsell
If you're a Shopify store owner looking to maximize your sales potential, you'll want to test JustUpsell, an app designed to help you efficiently upsell and cross-sell products with just one click. With its user-friendly interface and powerful features, JustUpsell is your ultimate solution for increasing revenue and enhancing customer satisfaction.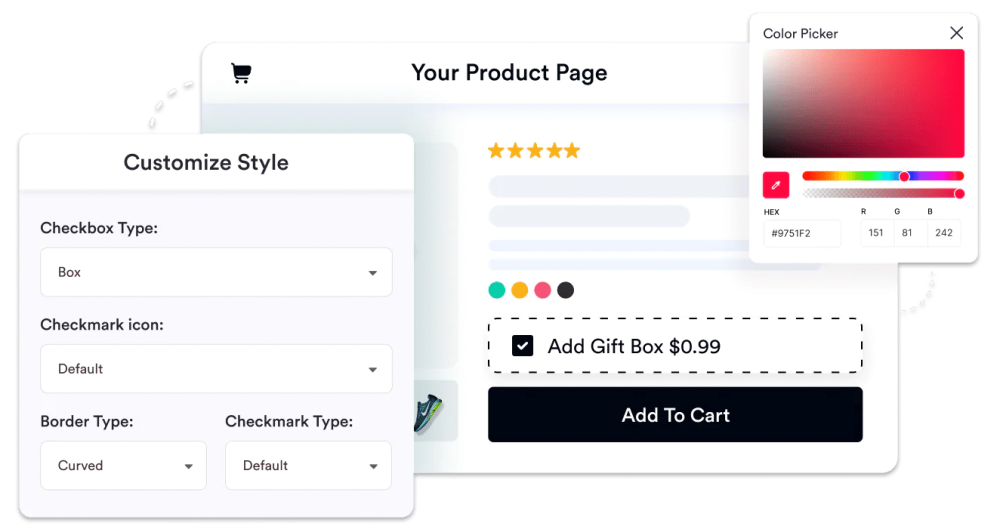 The Shopify App lets you add a simple yet effective checkbox to your product pages, allowing customers to add an upsell product to their purchase. This intelligent feature seamlessly integrates into your store, allowing you to showcase complementary items or upgraded versions of the product your customers are considering. You can significantly increase the average order value (AOV) and drive more revenue by strategically presenting relevant upsell options.
With JustUpsell, you have full control over which products you offer as upsells. You can handpick items that perfectly complement your customers' purchases, making the upsell experience seamless and enticing. Whether it's accessories, add-ons, or upgraded versions, you can customize your upsell offerings to match your store's unique product catalog.
Understanding the effectiveness of your upselling efforts is crucial for maximizing results. JustUpsell provides detailed analytics and reports, allowing you to track the performance of your upsells. Measure conversion rates, revenue generated, and other key metrics to gain valuable insights into your upselling strategies. Armed with this data, you can fine-tune your approach, optimize your offerings, and further boost your sales.
JustUpsell offers flexible pricing plans tailored to your needs:
Starter Plan (Free): Ideal for small businesses, this plan allows you to create unlimited upsells for up to 25 orders. It provides all the necessary tools to get started with upselling.
Advanced Plan: Suitable for growing businesses, this plan offers up to 100 upsell orders, unlimited upsell creation, and advanced customization options.
Unlimited Plan: Designed for high-volume stores, this plan provides unlimited upsell orders and all the advanced features for unlimited growth potential.
Don't miss out on the opportunity to boost your sales and enhance the shopping experience for your customers. Add JustUpsell to your Shopify store today and start reaping the benefits of efficient and effective upselling.
Install JustUpsell On Your Shopify Store Now!