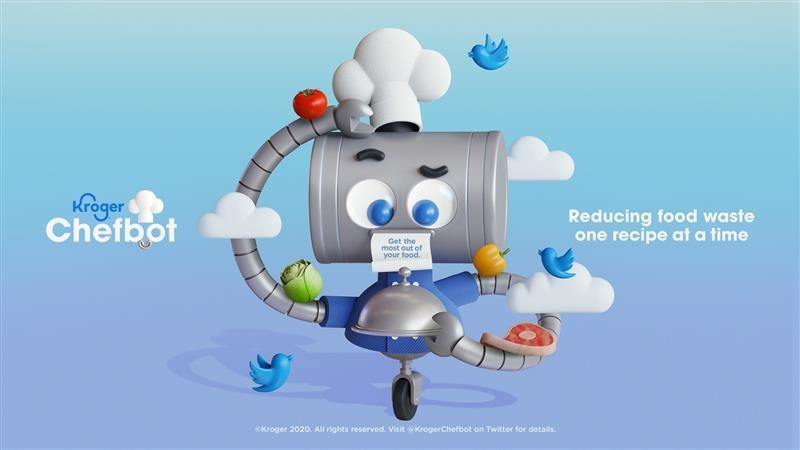 Kroger is a local supermarket chain that I really love. They offer home delivery, pick-up, self-checkout, checkout scanners, and more. The company recognizes that providing both value and customer service is paramount to any organization's success.
Technology, of course, is a means to accommodate this. That doesn't mean that people and processes do not matter, it just means that an investment to provide value to your customers ultimately is an investment in your brand's perception.
Introducing Kroger Chefbot
Their latest innovation is really cool… the Kroger Chefbot. Here's how it works:
Snap a photo of the food you have available.
Tweet your photo to @KrogerChefbot
The bot will send back tasty recipes!
Developed in partnership with integrated creative and media agency 360i, and technology partners Coffee Labs Kroger's Chefbot provides a user-friendly conversational solution for breaking away from mundane mealtime routines and unwanted at-home food waste—common challenges for many as families continue to enjoy more meals together at home.
Using Clarifai, Chefbot's AI analyzes photographs to recognize nearly 2,000 ingredients, unlocking 20,000 Kroger recipes for users to cook. 
Chefbot's experience includes multiple touchpoints, offering fun social engagement through Twitter paired with Kroger.com e-commerce integration. Over time with learned insights, Chefbot's food recognition and recipe search technology will evolve and improve, allowing the possibilities of this powerful tool to advance.
So How Well Does Chefbot Work?
It works pretty well! Of course, I tried to throw it a curveball with some weird ingredients at first… which wasn't very fair! For the second test I did, I put a bag of frozen chicken and frozen medley on the table and sent it off.
I received a quick response:
When I responded, OK:
The result were some great recipe ideas! If you're nitpicking… you're probably saying that it technically wasn't broccoli that I had a bag of. True… and I wonder if, instead, Kroger could use character recognition in addition to image recognition to cross the ingredients with actual products that may be included in recipes.
Either way, it's a great service. And, no doubt that it gets Kroger some brand awareness as well as some appreciation for helping out. I'm a lousy cook… so hopefully it will help me improve!