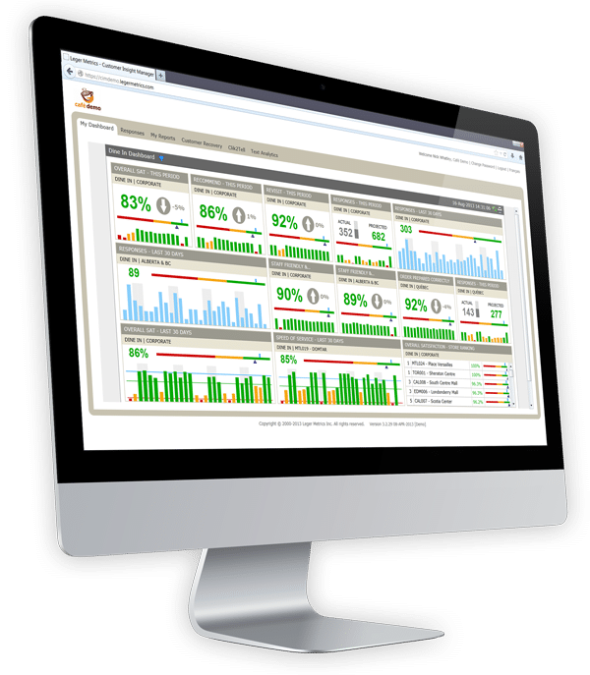 Leger Metrics offers a platform to assist your company in a better understanding of how your customer experience drives satisfaction, loyalty and profits across your company.
This slideshow requires JavaScript.
The Voice of Customer (VoC) platform provides you with the tools necessary to capture customer feedback with the following features:
Customer Feedback – Invite customer feedback and collect it through mobile, web, SMS, and phone.
Reporting and Analytics – Deliver insights to the right people, at the right time in a format that they can act upon. Understanding customer feedback helps you prioritize actions and improve operational and bottom line performance.
Customer Recovery – Win back dissatisfied customers with real-time, triggered alerts. Manage and resolve their issues, track their cases, and convert them into enthusiastic brand ambassadors.
Social Advocacy – Turn positive feedback into social media advocacy by encouraging brand recommendations. Boost your social media ROI, increase positive word-of-mouth, create new social marketing opportunities, and grow revenues.
Text Analytics – Decipher more about your customers' experiences and sentiment by analyzing their open-ended comments quickly and easily through Natural Language Processing.
End-to-End Services – Leger Metrics works with you to design, configure, deploy, and manage your successful Voice of the Customer (VoC) feedback program. Go deep with advanced analytics and marketing research services.