Lilt has built the first neural human+machine feedback loop for translation. Lilt's neural machine translation (NMT) system is the first of its kind in the translation technology industry and goes beyond offerings from Google, Amazon, Facebook, Apple, or Microsoft. Businesses wishing to expand their global reach now have a better option to translate their content quickly and accurately.
When it comes to translation, businesses have had only two choices:
Full-sentence machine translation like Google Translate.
Human translation.
Lilt enables the best of both worlds by combining artificial intelligence with human power to get the best translation quality available. Lilt's NMT system uses the same neural technology that is already being used to advance speech and image recognition, but whose impact on the translation industry is relatively new and promising. In recent months, NMT has been lauded by industry experts for its ability to match the quality of human translation and Lilt's new system is no exception.
In Lilt's neural feedback loop, translators receive context-dependent NMT suggestions while they work. The NMT system passively observes translator preferences to adapt its suggestions in real- time. This creates a virtuous cycle in which translators receive increasingly better suggestions, and the machine receives increasingly better feedback. The neural feedback loop results in higher quality human and machine translation, which helps businesses serve more customers, reduce cost, and shorten time-to-market. Lilt costs 50% less and is 3-5 times faster.
Lilt's platform offers the following:
Never Retrain MT Systems Again – Lilt's interactive, adaptive machine translation system updates its translation memory and MT system in less than a second each time a translator confirms a segment.
Seamless Connection of Humans and Machines – Integrate human and machine translation with other enterprise systems through a standards-based API. Or use one of Lilt's growing list of custom connectors.
Agile Project Management – a Kanban Project Dashboard lets you visualize the current status of your team's projects and translation work.
In a blind comparison study conducted by Zendesk, translators were asked to choose between Lilt's new adaptive NMT translations and Lilt's previous adaptive machine translation (MT) system. Users chose NMT to be of the same or superior quality than the previous translations 71% of the time.
We love the connection between the human translator and their ability to train our MT engines. It meant that when we did make an investment in human translations, it would also contribute to the quality of our MT engines. 

Melissa Burch, manager of online support at Zendesk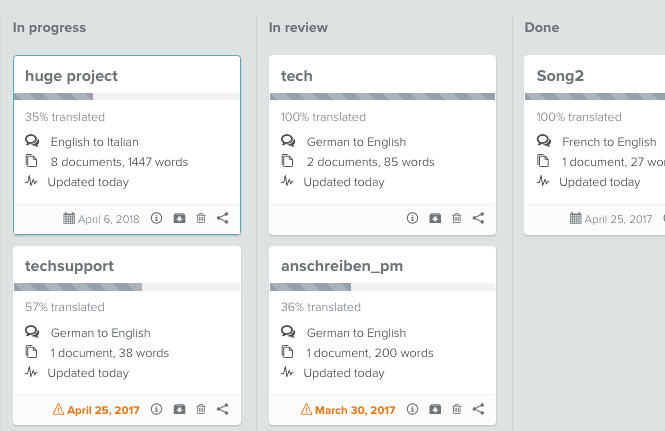 Lilt co-founders John DeNero and Spence Green met while working on Google Translate in 2011, and started Lilt in early 2015 to bring the technology to modern businesses and translators. Lilt offers solutions enterprise and ecommerce translation as well.