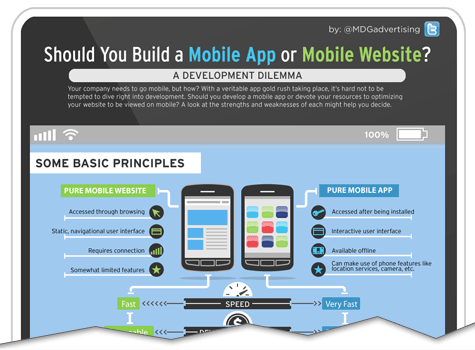 I always used to think that mobile apps would go the way of desktop software but it doesn't appear the population of apps is waining at all. Quite the opposite, the platforms that you can build mobile applications on are becoming more affordable every day (we built our iPhone App on Appifier for $500)… and many of them are supporting both tablet and mobile across any device or platform.
The decision between building a mobile website or a mobile application is ultimately a decision unique to your business. If possible, companies should develop both in order to leverage these two powerful platforms. If only one can be chosen, business must first assess their goals and resources, then closely consider the differences detailed in the infographic and the audience they want to reach. Only then can a business truly tell which mobile method will provide more value, advantages, and opportunities with the massive mobile market.
I believe that everyone should have a mobile website, regardless of whether or not you're deciding to have an application. The numbers are consistent that people are checking email, browsing sites, shopping and viewing videos from their mobile devices more than ever before… and the numbers are growing. While mobile web development allows for quite a bit of flexibility, applications still offer much, much more.
Should You Build a Mobile App or Mobile Website? by MDG Advertising