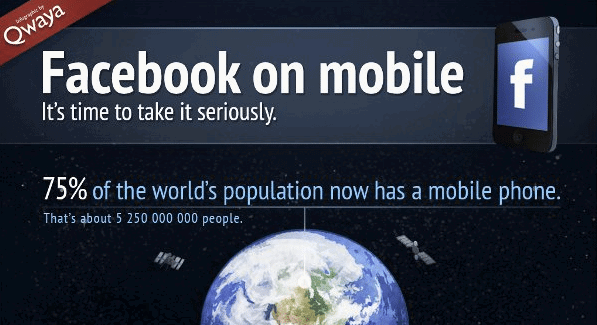 Releasing a new mobile version of Facebook for tablets and mobile devices may have been one of the best moves they had ever made. Facebook is now seeing a 67% year over year growth according to this infographic from Qwaya, Reasons Why a Mobile Facebook is Serious Business.
It's time to start taking Facebook on mobile seriously. The whole world is moving to experiencing the web via mobile devices, and how people use Facebook is no different. This infographic hopefully provides enough reasons to why you should start thinking about Facebook from a mobile perspective – and how this shift affects your business.
I think a lot of businesses don't realize that many of their consumers may not even have a desktop or laptop – they are connected only through their mobile device. And virtually every single one of those consumers are on Facebook. Is your business there?