I (and others) never really understood ChaCha. ChaCha is a hometown hero in Indianapolis and has gotten a ton of funding behind it. I didn't understand why anyone would throw money at a human-powered search engine. I thought it was too resource intensive and a waste of time… doomed to a dot com death.
I was wrong.
ChaCha did something that took me by surprise. They knew what they were good at – accurate search results the first time – and figured out the medium where it would be best put to use = Mobile. They had the advantage of humans on their side and utilized them to their fullest potential, voice-based search.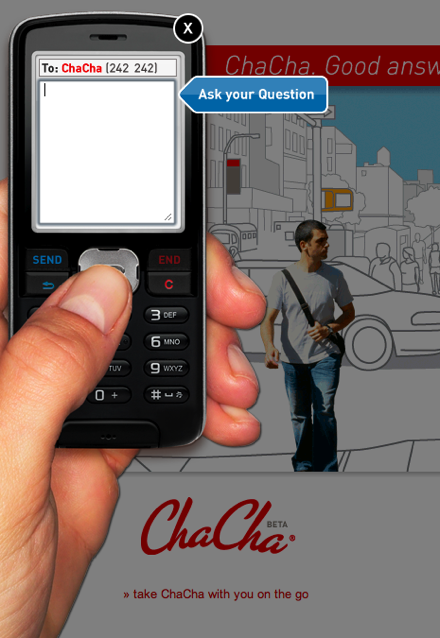 ChaCha has relaunched itself, voted best Mobile application by AT&T and launching both voice-based mobile search and SMS search that is fantastic.
I tested ChaCha myself, texting 242242 and asking
When and what hours are the National Restaurant Association this year?
Within a couple minutes I got back the dates, hours, and where it was being held – nicely formatted and easy to read on my mobile phone (Razr).
ChaCha has taught me some lessons
Don't ever underestimate a charismatic, energized leader. Scott Jones has over two decades of experience and is a veteran entrepreneur, inventor, strategist, and venture capitalist. I think it's Scott's passion and the talented team he put in place that willed this company to success. I wasn't a believer, but they sure were!
Just because a company isn't doing well today, don't count them out tomorrow. We live in a results-driven, impatient world, don't we? I see a startup, look at their business plan, watch them struggle, and I assume death is around the corner. The fact is that a great company is a great company and sometimes they just need to find their way. ChaCha's mobile move is 3M's Post-It Note in my book.
Great funding increases your probability of success. Too many people assume that, in this wild world wide web, anyone can become a dot-com millionaire. We love those stories and read them all over the place. The truth is that it still takes money to make money.
I'm suppose I'm a little jealous of the incredible funding that ChaCha has had from the likes of Scott, (Jeff) Bezos Expeditions and Simon Equity Partners. I'm pretty sure that, given the resources that some dot-coms have had, I could build a successful business with some of my friends and our ideas. How does an entrepreneur with no resources get an opportunity like these guys?
I hope I get to meet Scott some day and ask him. In the meantime, I'll keep using my own muscle to drive my ideas to market slowly and earnestly. Perhaps I'll get a boost from Cisco.
Or maybe I'll text 242242.