The mobile-first consumer is different. While their lives revolve around their mobile phones, they also hop between devices, locations, and channels. Consumers expect brands to always be in step with them and deliver personalized experiences across all physical and digital touchpoints. MoEngage's mission is to help brands analyze, segment, engage, and personalize the consumer's journey.
MoEngage Overview
Analyze the Customer Journey
Insights provided by MoEngage assist the marketer in mapping our the customer's journey so they can onboard, retain, and grow the value of each customer.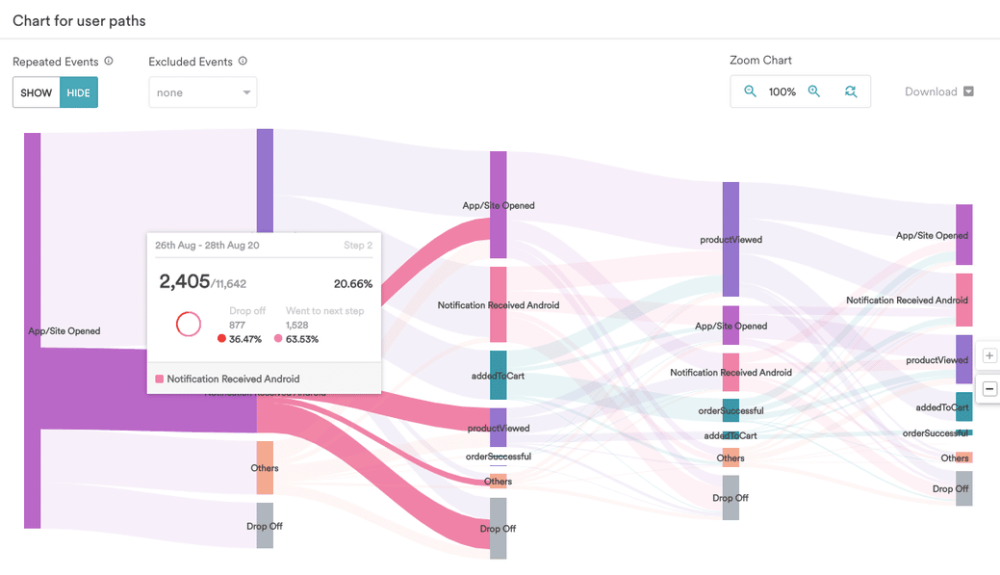 Conversion Funnels – Identify the precise stages where most customers drop off. Create campaigns to plug the leaks and bring them back to your app, store, or offline touchpoints.
Behavioral Trends – Know how customers are engaging with your app and track your KPIs. Use these insights to create highly targeted engagement campaigns.
Retention Cohorts – Group customers based on their actions, demographics, location, and device types. Analyze their behavior over a period of time and figure out what makes them stick.
Open Analytics – Collect and manage all your customer data at one centralized location. Integrate with tools like Tableau and Google Data Studio for easy visualization, without the need for an ETL tool.
Source Analytics – Compare all your customer acquisition sources on one dashboard. Understand high conversion medium or channels and focus your budget towards those.
Intelligently Segment Your Audience
AI-driven segmentation engine, that automatically splits your customers into micro-groups based on their behavior. Now you can delight every customer with highly personalized offers, recommendations, alerts, and updates.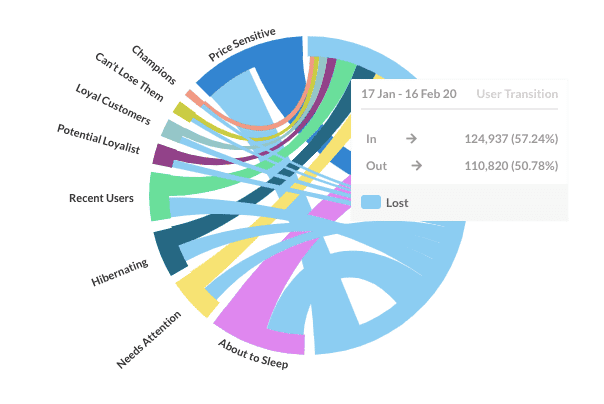 Predictive Segments – Group your customers into categories such as loyal, promising, at-risk, and so on based on their behavior. Use MoEngage predictive models to identify customers who are likely to respond to promotions.
Custom Segments – Create micro-segments based on customer attributes and their actions on your website, email, and app. Save your customer segments and retarget them easily across their lifecycle.
Engage Your Audience Where They Are
Create seamless, connected customer experiences across channels and devices. Visualize, create, and automate customer lifecycle campaigns. Let MoEngage's AI engine automatically identify the right message and the right time to send it.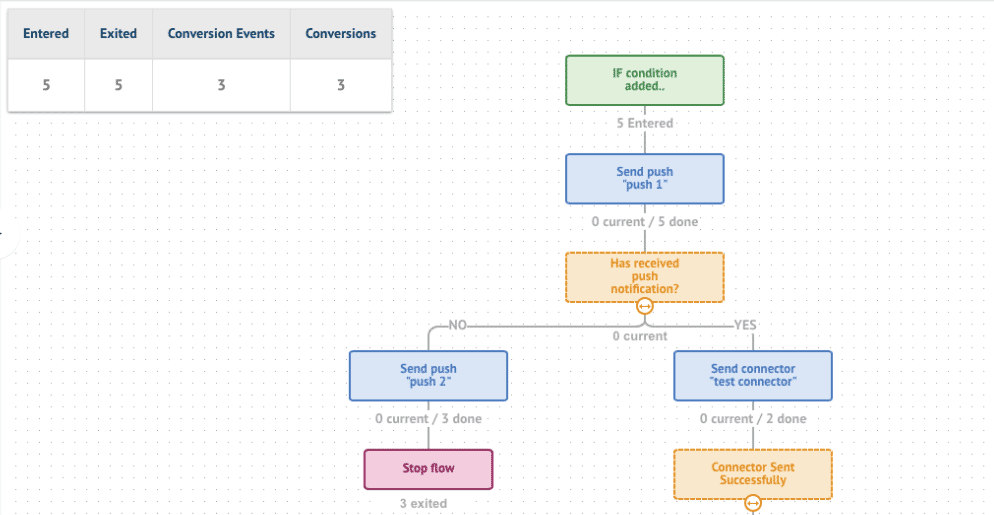 Journey Orchestration – It's never been easier to visualize and create omnichannel journeys. Be with your customers every step of the way and automate their journey from onboarding to engagement to long-term loyalty.
AI-Driven Optimization – In a multivariate campaign, MoEngage's AI Engine, Sherpa, learns the performance of each variant in real time and automatically sends the best variant to customers when they're most likely to convert.
Push Notifications – Overcome network, device, and OS restrictions within the Android ecosystem to deliver your push notifications to more customers.
Manual Optimization – Set up A/B and Multivariate testing manually. Set up control groups, run experiments, measure uplifts, and iterate manually.
One-to-One Personalization Capabilities
Create personalized experiences that win customers for life. Delight them with tailored recommendations and offers based on their preferences, behavior, demographics, interests, transactions, and more.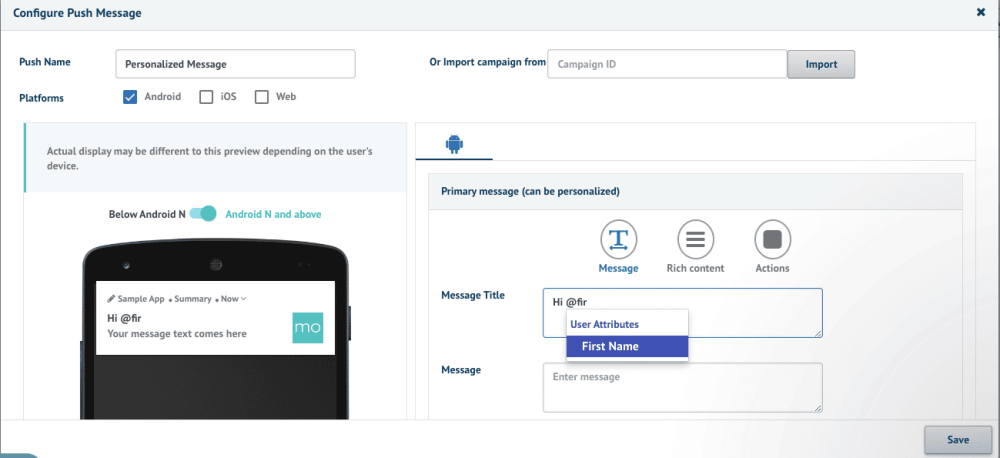 Personalized Recommendations – Sync your product or content catalog with customer preferences, behavior, purchase patterns, and attributes. Delight them with recommendations that are spot-on.
Web Personalization – Dynamically change website content, offers, and even page layouts for different customer segments. Set up custom banners and page layouts that dynamically change based on customer behavior, demographics, preferences, and interests.
Onsite Messaging – Move away from standard website pop-ups. With on-site messaging you can intelligently trigger personalized website pop-ups based on customer behavior and attributes.
Geofencing – With MoEngage's Geofencing capabilities, you can trigger highly relevant and contextual notifications based on your customer's current location.
See How MoEngage's Customer Engagement Platform Can Power Your Growth Strategy.
Gain deeper insights into how customers are engaging with your app and create highly targeted campaigns.
Create hyper-personalized messaging and engagement to help customers across various touch-points.
Leverage AI to send the right message at the time, and create multivariate campaigns to test for the best variant.