The incredible team at Postano has done it again, surpassing all of my expectations of a great mobile application with Version 3 of Martech. I believe it's the best Marketing iPhone App out there (Android coming)!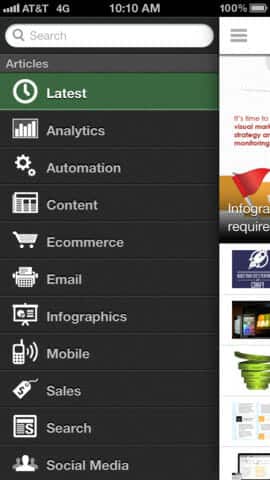 First up is the very slick redesign that incorporates a Facebook-like left navigation. It makes it simple to scroll and select the category or media you'd like to navigate to – including our Podcasts, Videos and Events – while maximizing the viewport when reading a single article. It's a beautiful and very usable interface.
In 3 months we've tripled the number of mobile app users – nearing almost 1,000 right now. And, as we've written about before, the engagement and statistics associated with mobile application users are very impressive. Our users read more, watch more, listen more and spend more time than in any other medium. Thanks to Webtrends for the great mobile application analytics!
Perhaps most important is that the seamless integration with WordPress means that we don't have to do anything to keep our application updated. Podcasts, videos, blog Posts and category-driven blog posts are all updated automatically as we publish content on our site. The apps even have mobile alerts and the ability to save your favorite articles. Postano truly deserves a reward for the incredible job they've done.
Here are our Stats to Date