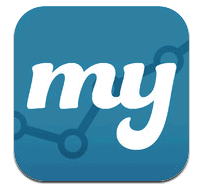 KISSmetrics have released a new FREE iPhone application called My Analytics. It's the fastest way to see how your Google Analytics metrics are doing when you're away from your desk.
Earlier this year, the folks at KISSmetrics were looking for a decent Google Analytics app to help them keep tabs on their own data. And they couldn't find one. Either the mobile apps were WAY too basic and wouldn't let you do any comparisons, or they tried to do WAY too much and weren't easy to use.
This slideshow requires JavaScript.
My Analytics shows your Google Analytics data when you're on the go, in a meeting, or need an quick update.
With My Analytics, you can compare today's data with yesterday, the same day last week, and the same day two weeks ago. You can also compare yesterday's data with previous weeks or this week's data to previous weeks.
My Analytics gives you the data that you need right away. You'll get quick access to your Visits, Unique Visitors, Page views, Goals, Ecommerce Transactions and Ecommerce Revenue.