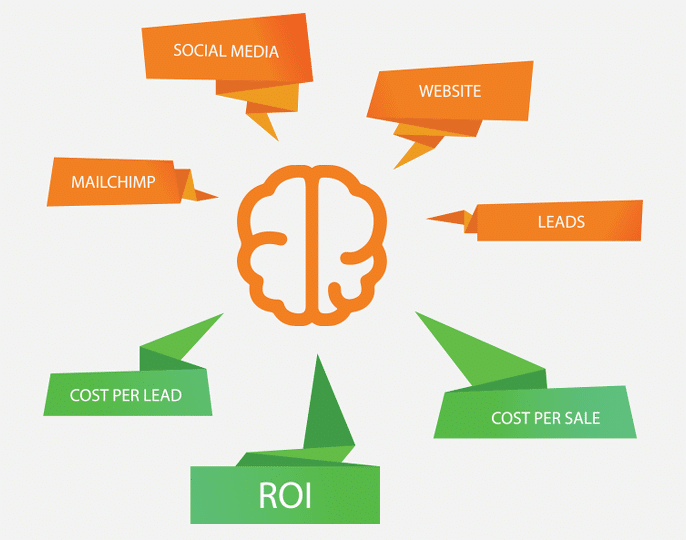 Having worked with a number of small and large companies across multiple industries and various media, we have constantly seen a fundamental problem of companies unable to determine their marketing ROI. Even with large companies that employ teams of marketers with many years of experience, the ability to track results directly back to expenditure is lacking.
While digital marketing avenues such as PPC advertising have allowed people to draw the line between their spend and their return, most companies and people don't use the data that they get to actually do this effectively.
The fundamental problem is that although data is in abundant supply, the ability to understand it is not, and erroneous assumptions are often made (such as having 10 000 followers on our Facebook page is a goal and will result in increased sales).
Newlytics Tracks Marketing ROI
And so, to help resolve this problem, we began developing a system to do the work for marketers. The basic premise of Newlytics is simple; you upload budgets for various marketing activities, connect Newlytics to your marketing avenues, and it links the dots between your expenditure and how leads were created.
Going a step further, Newlytics allows you to mark sales, discover cost per lead and cost per sale information, and use visual funnels to figure out which avenues are giving you the best results.
Tracking Leads – Newlytics automatically tracks leads entered into a website, with the inclusion of a single tracking pixel. Leading tracking also allows you to track sales, follow how the person engaged with the website before generating a lead, and track daily sales and lead information.
This slideshow requires JavaScript.
Marketing Funnels – Newlytics automatically tracks where leads come from and how the user engaged with the website before becoming a lead. Marketing funnels allow you to visually see where your expenditure is going, and where leads are coming from, making it easy to find the best way to invest in your marketing.
This slideshow requires JavaScript.
Link to a Range of Avenues – Newlytics links to Google Adwords, Mailchimp and automatically tracks keyword rankings for your website. Social media integration and some other secret methods are currently in the pipeline as well.
This slideshow requires JavaScript.
Useful Tools – As part of the marketing tracking, Newlytics tracks clicks across your entire website, along with all the analytical data to give you an easy to understand overview of how your website performs. These tools in combination with lead and budget tracking give you an strong understanding of how to get the most out of your marketing.
This slideshow requires JavaScript.
Agency Certification – Newlytics includes an agency certification for agencies that track 10 or more campaigns. This creates a great selling point to add to your arsenal – and shows clients that you know how to get the best results for them. Additional certifications will be introduced to help differentiate your level of expertise as an agency.
Joining Newlytics
Newlytics is currently preparing for private beta testing. Simply register and you can enjoy early access and contribute to the platform improvements before it is publically released.
Unique Cost Proposition
In developing Newlytics, one of our main goals was to create a platform that is user-friendly and cost effective enough for any small or large company to use. Because of this, Newlytics includes a FREE option for tracking a single campaign, which is ideal for small business owners.
Agencies and larger marketers have a flexible pricing model available that lets them add unlimited new campaigns as and when it's needed.