With a many business applications running off of Microsoft, Mac is still a pain in the butt to run in the business setting. The newest Operating System upgrade from Apple offers some relief with BootCamp, an application that allow you to dual-boot an Intel-based Mac in either OSX or in Windows.
Dual booting, for the most part, is really like running two different computers off the same hardware, though. Bootcamp is fine, but switching back and forth is not an easy task. Parallels has solved the problem, though and merged the two worlds into a world that simply doesn't seem right! I've been running Parallels (thanks to friend, Bill) since its earliest versions.
When coherence was introduced, that's when crazy stuff started to happen… having a dock, task bar and apple's bar all in the same window just seems all wrong! Even worse? Dragging and dropping from Windows applications to Mac applications and vice-versa. Wow! The Mac vs. PC argument is put to rest, isn't it?
No longer does a graphic artist, a Web designer, or an application quality assurance technician need multiple pieces of hardware to do something as simple as test for Cross-browser compliance. They can all run seamlessly off of the same Mac – in my case a MacBookPro.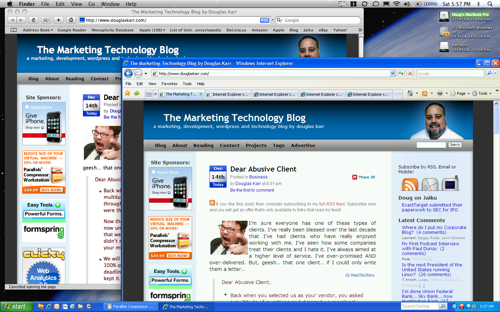 When Leopard came out, it seemed my happiness was over! I corrupted XP and simply couldn't get my applications to work like they used to. I was peeved, even taking the opportunity to write some of the folks over at Parallels personally. They were good guys and assured me that help was on the way!
Parallels and Leopard
This week it came! The latest upgrades for Parallels added some more features along with full Leopard compatibility. If you're looking for a great application for your Mac enthusiast – this may be it.
If you're a PC person and just plain frightened by these cool Mac people – this is your chance to still have the glowing apple on your laptop but run your good 'ol apps in Windows.