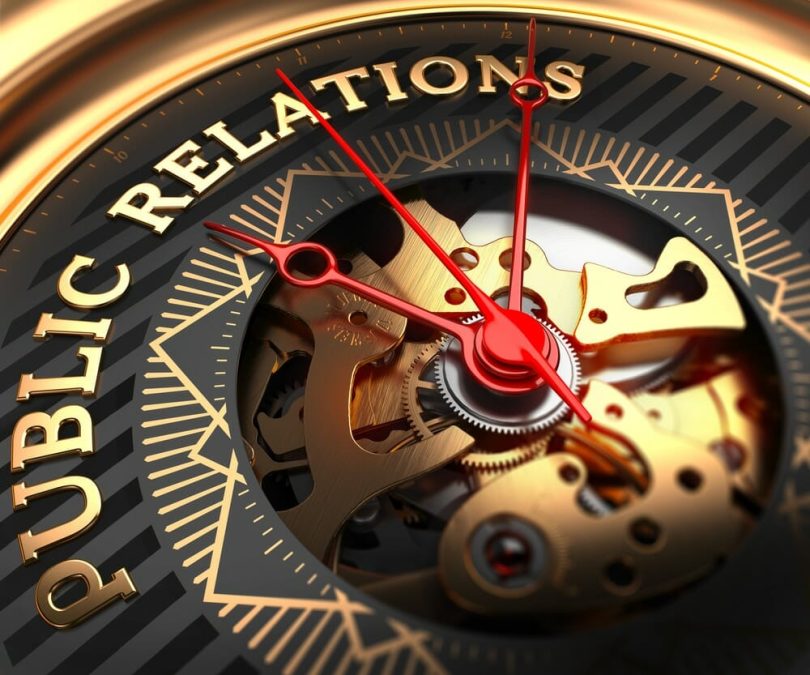 Years ago I wrote a post on the mechanics of how to write a pitch from my perspective as a publication. One of the last things I mention in the article is that it has to be relevant to our audience. I'm going to go a step further and say, with all the noise and crap pitches out there, that there's an enormous opportunity for good PR to weed through the clutter and get on our publication. All you need is a story.
Each morning, I open my inbox, and there are a dozen robo-pitches. Some are just PR automation tools nagging me over and over and over. Some are just a copy and paste press releases with no explanation on why I'm being pitched or why my audience would want to hear the news.
Only a percent or two of them have a story at all. In fact, I often check out the companies that I read about in the press release and then reply to the PR person with a pitch of my own on how their company is helping. Worse, the PR team is almost always unprepared to respond, and they take days to get a few screenshots, a quote, and a product overview over to me. How is that possible?
Let's Reverse Positions
We had a story to pitch!
We have a fantastic public relations team, Dittoe PR. There's often some murmurs in Indianapolis that if you're not part of the chosen few, you're probably not going to make the local news. It's difficult to compete in our business pages with companies that are buying highrises or investing millions of dollars.
Throughout last year, we invested heavily in a podcast studio we built in downtown Indianapolis. We'd been seeing great growth with our partners at Edge of the Web Radio but we were driving far outside Indy to do the shows. We needed a convenient location a few blocks from the center of the city to bring our guests.
Building the studio worked. In fact, one of the first guests we had on was the Indianapolis Mayor's office! We thought this was amazing news:
We invested and built a podcast studio in downtown Indianapolis.
We built a studio that was the first of its kind in downtown Indianapolis.
We already had the Mayor's office on our podcast in the new studio.
Dittoe PR pushed back a bit but we pushed them that this was news that was great for pitching the local media. Dittoe knew what was next… yawns. There are three flaws in the above pitch… I hope you see them:
We, We, We
Our pitch was all about us. Sure, there was a tangent with being downtown but it was still all about us. The team at Dittoe came back and told us this was the problem. They said they needed a story that was bigger than we were and brainstormed with us on what that was.
It was sitting right in front our face the entire time… podcasting. Podcasting was exploding in popularity after being a fairly niche media for several years. Not only that, but we weren't the first in the Indianapolis region.
Darrin Snider was an established podcast professional in the region with an amazing local music podcast. Brad Shoemaker built the first dedicated studio in Indianapolis – a beautiful studio for both video and audio. He continues to consult with us on our progress. Bill Caskey's Advanced Selling Podcast has been so successful that it was picked up for syndication. And a dozen or so other companies were investing heavily in podcasting, including Angie's List.
Now that's a story, right? Instead of we, we, we, the story was the podcasting movement that was happening in the region! Dittoe pitched the story and it was immediately picked up. Not only was it picked up, it made the front page with my smiling mug!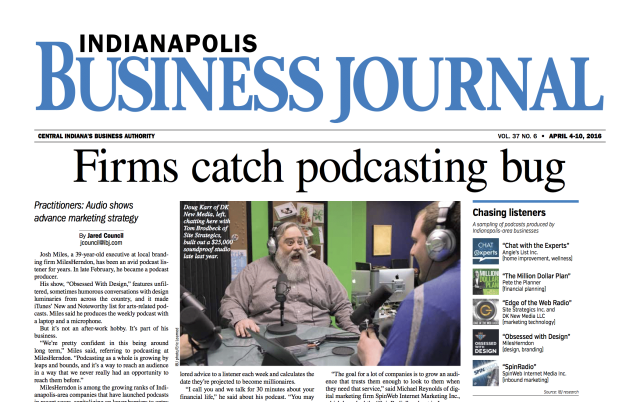 Some might argue that we shared the spotlight with that article. Well, duh! Did sharing the spotlight in any way diminish the news of our studio and the authority that we have in that space? No. Quite the opposite, it's established us as a podcasting expert in our region.
The Story Must Be Bigger than YOU
Dittoe PR taught us such a valuable lesson with this exercise. And as a publisher, I should be ashamed that I wasn't taking the medicine that I was dishing out to every public relations person pitching me. The story is not about you or me, it's about the impact to the audience. When you can craft a story that speaks to how you are changing the publications' audiences' lives, work, economy, play, etc… you're going to sell the story. It's not about you.