I received a newsletter from PR Leap today, announcing a feature that's quite simple but should come in handy! Here's the note (from the newsletter announcement):
PR Leap has released a new PR Leap feature called PRTube, the YouTube for Press Releases. Like a YouTube video, you can display and share your press release on any website with PRTube. Embed your press release today and watch it go viral. To embed your press release in a blog or website, grab the embed code from your press release on prleap.com. The embed code is found in the top right corner under: "Embed News with PRTube."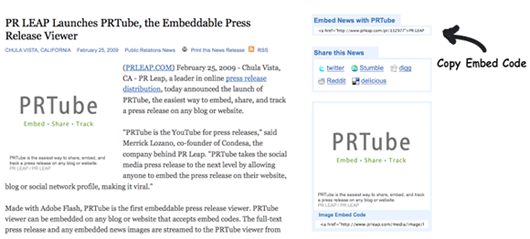 After the blog post is published, the PRTube reader will appear on the post as follows with your press release.
Here's a video of the feature in action (click through to the post if you can't see the PR Tube Video):