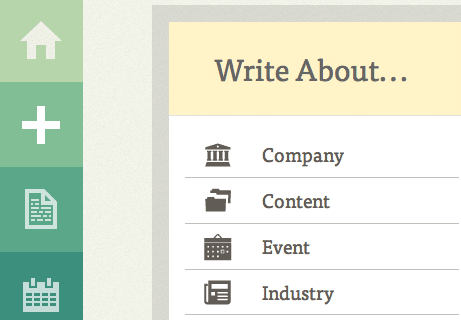 When I was working for Compendium, the only difference between successful corporate blogging programs and those that struggled was the volume of relevant, remarkable content that they were able to produce. Years later and this is still the issue with almost every client or prospect we have when it comes to building out their content marketing strategy.
There are a few reasons… lack of resources, push for content perfection, and the last is not knowing what to write about. It's amazing that a company can produce hundreds of outbound emails to prospects and customers helping them succeed, but they sit at an open blog text editor and they freeze.
Relaborate is a platform that helps your blogging team to generate ideas and content for your corporate blogging strategy:

Relaborate Features
Plan and Research – Create a content strategy and editorial workflow around topic ideas, industry trends and your teams (and guests) expertise.
Create and Collaborate – Smart collaboration through the content development process. Quickly assign tasks to your team, guests and contractors.
Optimize and Share – Reference and connect with brand advocates and influencers for better seeding and more intelligent distribution.
Pricing is very affordable, starting at $29 per month for 5 users up to $299 per month for 70 users! Publish directly through WordPress, Tumblr and others as a draft or live state, or copy the HTML code with one click for fast distribution.