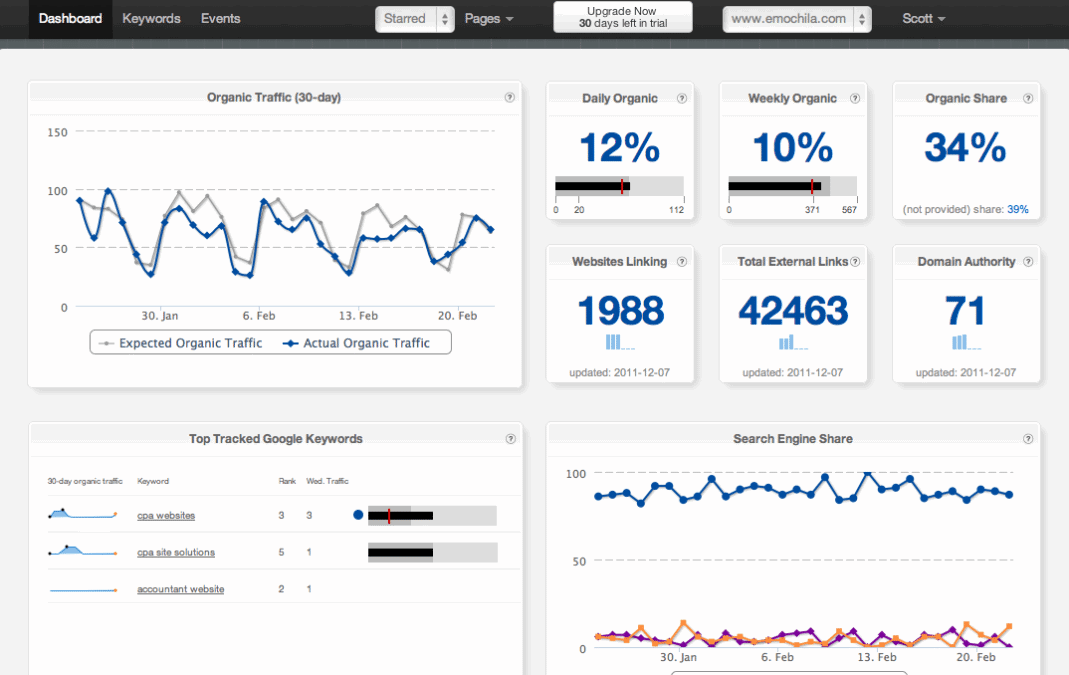 We've had our eye on SERPS.com for a while now. Founder Scott Krager showed us the initial versions and we were really impressed. We've used our share of SEO monitoring tools before. However, SEO continues to change… and many tools just haven't kept up.
Scott's team has embraced the change and really come up with a system that's quite different… with the ability to integrate directly with Google Analytics, monitor social indicators, measure test scenarios – all affordably through a sleek user interface. This isn't just a starter platform, though… SERPs will allow you to test internationally as well in over 65 countries!
Scott points out these 4 key differentiators to the platform:
Our SEO tests feature is really neat. 3 clicks and you can setup a SEO correlation test to see what's working and what isn't in your space.
Our daily keyword rankings integrates tightly with Google Analytics so you can see at a glance what the low-hanging fruit for you are on any given day.
The dashboard lets you quickly cycle through sites and do a basic health check on each site. Great if you manage multiple sites.
Our page-level view lets you easily see correlations between rankings, traffic, and social metrics in a chart that doesn't make your eyes bleed.
Here's a sneak peek of SERPs upcoming SEO monitoring dashboard features and functionality:

While many of the applications out there cost hundreds or thousands per month, SERPs starts at $9 per month… a price that any marketer can afford (and should take advantage of). Their largest package allows you to track 1,000 keywords across 5,000 pages for $98 per month… not bad. Start your 14 day trial now!