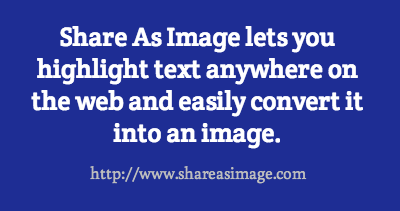 I got to do a book signing with Beth Hayden at Social Media Marketing World, author of Pinfluence: The Complete Guide to Marketing Your Business with Pinterest.
One of the tools that Beth shares in her book that is super simple but really great is called Share as Image. For a few bucks, you can drag a bookmarklet into your browser toolbar and then convert any quote into a shareable image. It's drop dead easy with very few features… but it does the trick!
There are times on my blog when I want to take a block quote and make it stand out within the body of the post. This is a great way to do that – not only giving me an image that I can utilize alternative text with for image search optimization, but something that really stands out amongst the text in the blog post.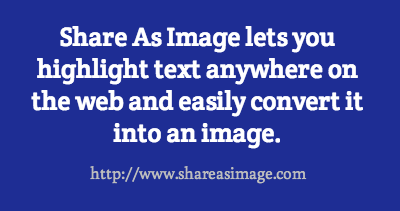 If you want something a bit more robust, where you can add a background image and customize the output much more heavily, Beth also lists PicMonkey as a great photo editing tool that you can customize with text.