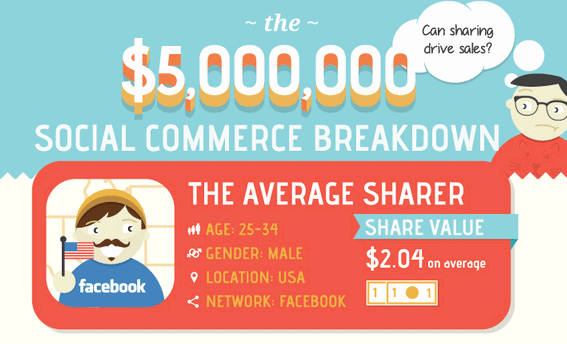 I'm not sure why there are naysayers on social commerce… I believe folks (B2B or B2C) will make a purchase anywhere online. As long as the person wants or needs the product – and they trust the vendor – they'll click the purchase button. I even used to say that folks didn't go into Facebook wanting to make a purchase, but now that social commerce is established and trusted, consumers are adjusting their behavior.
After analyzing $5,000,000 worth of eCommerce transactions influenced by the AddShoppers social commerce platform, they uncovered the following insights from thousands of merchants ranging from mom & pop shops to household brands like O'Neill Clothing and Everlast.
This infographic from AddShoppers on Social Commerce provides some amazing insight into the growth and activity of social media users and their shopping habits!
Google+ is driving a much higher transaction value, per user, than Facebook. $10.78 vs $2.35
The average tweet is worth $1.62 to online retailers.
Every pin drives an average of $1.25 in revenue to an online retailer.
The average online order influenced by a tweet is $181.37.
Product shares via email have the highest likelihood of turning into a purchase.
The average online order influenced by tumblr is $200.33, the highest of any social networking site.