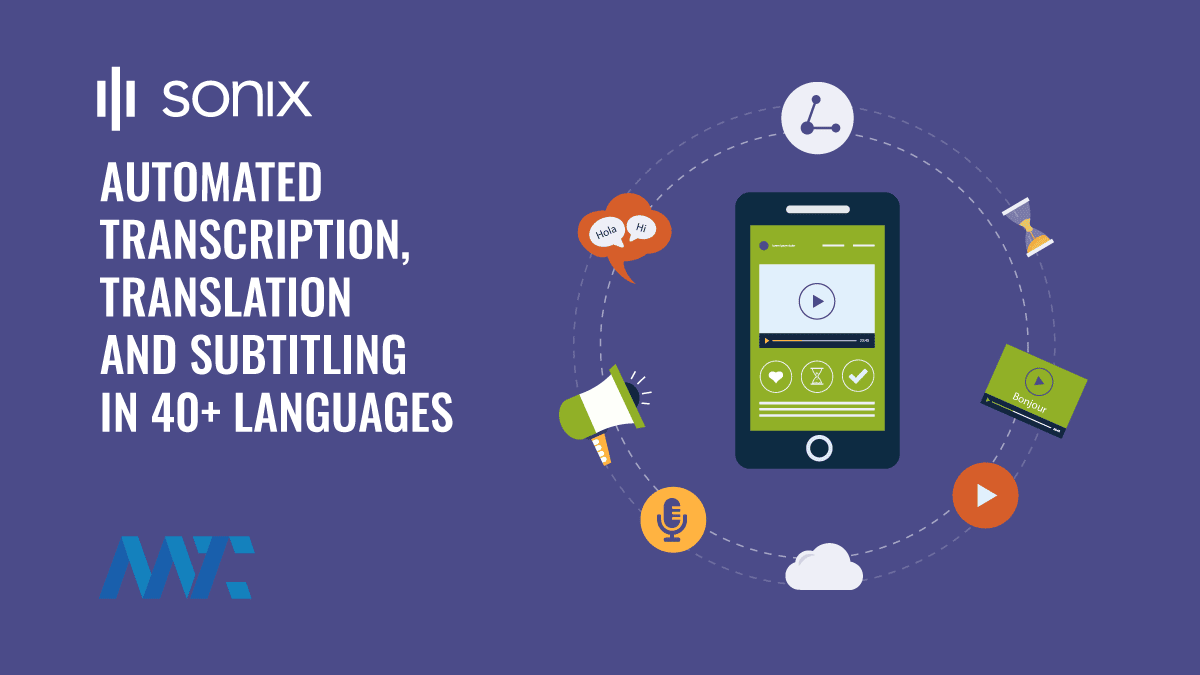 Previously, I shared that I had implemented machine translations of my content, which exploded the site's reach and growth. As a publisher, the growth of my audience is critical to the health of my site and business, so I'm always looking for new ways to reach new audiences… and translation is one of them.
In the past, I've used Sonix to provide transcriptions of my podcast… but they have a ton more to offer through their platform. Sonix offers fully-automated transcription, translation, and subtitling that's fast, accurate, and affordable:
Automated Transcription – Sonix's in-browser editor allows you to search, play, edit, organize, and share your transcripts from anywhere on any device. Perfect for meetings, lectures, interviews, films… any kind of audio or video, really. You can also fine-tune your transcriptions with a custom dictionary you can maintain across the account. You can also export the transcription via Word, Text, PDF, SRT, or VTT files.
Automated Translation – Translate your transcripts in minutes with Sonix's advanced automated translation engine. Increase global reach with over 30 languages. Depending on your plan, you can get an in-browser translation editor, side-by-side translation comparison, and multi-language subtitle creator.
Automated Subtitling – Make your videos accessible, searchable, and more engaging. Automated but flexible enough so you can customize and fine-tune to perfection. Depending on your plan, you can automatically split subtitles, adjust timecodes by the millisecond, drag and expand the timeline, customize the font, color, size, and position, and burn-in subtitles to the original video.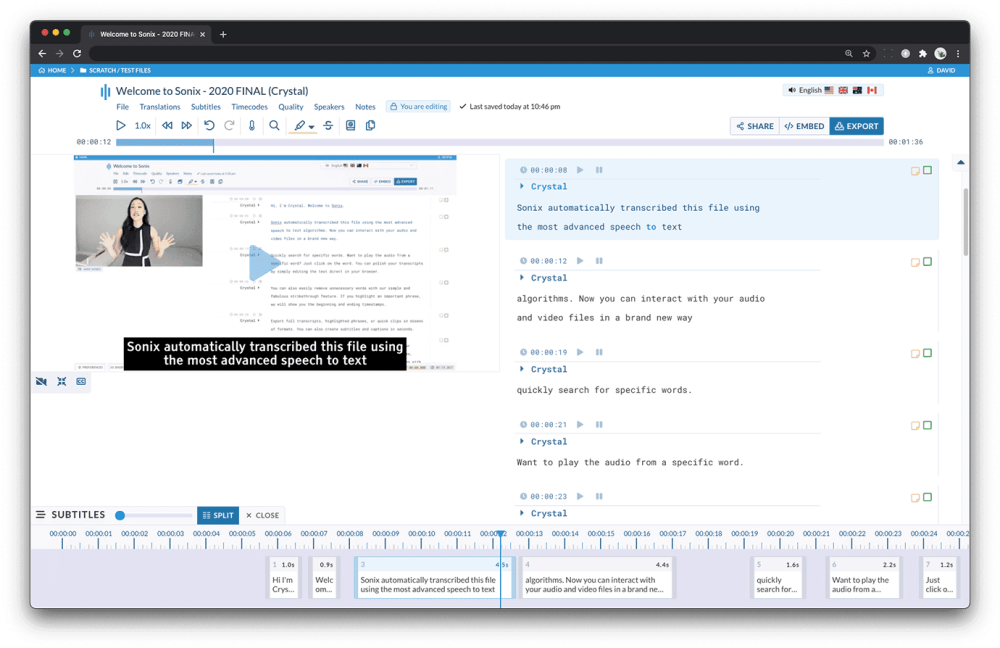 The platform offers a ton of other products to enhance your capabilities. The Sonix media player enables you to share video clips in seconds or publish full transcripts with subtitles. This is great for internal use or web publishing to drive more traffic to your website.
There's also a collaboration and file management system with multi-user permissions to allow you to grant collaborators access to upload, comment, edit and restrict access to files or folders. You can easily organize and search your transcripts, searching for words, phrases, and themes within your content.
Sonix Integrations
From web conferencing systems to video editing platforms, Sonix is a great addition to your audio and video content workflows.
Web conferencing platform integrations include Zoom, Microsoft Teams, Dialpad Meetings, Cisco WebEx, GoToMeeting, Google Meet, Loom, Skype, RingCentral, Join.me, and BlueJeans.
Editing platform integrations include Adobe Creative Cloud Apps (Premiere, Adobe Audition, Final Cut Pro) And Avid Media Composer. Easily connect to the tools your teams use to get the most out of Sonix.
Other workflow integrations include Zapier, Dropbox, Google Drive, Roam Research, Salesforce, Evernote, OneDrive, Gmail, Box, Atlas.ti, nVivo, and MaxQDA.
Pricing plans include affordable pay-as-you-go projects, premium subscriptions, and enterprise subscriptions.
Get 30 Free Minutes of Transcriptions with Sonix
Disclosure: I'm using affiliate links in this article as well as a referral link where I can get free transcription minutes from Sonix.