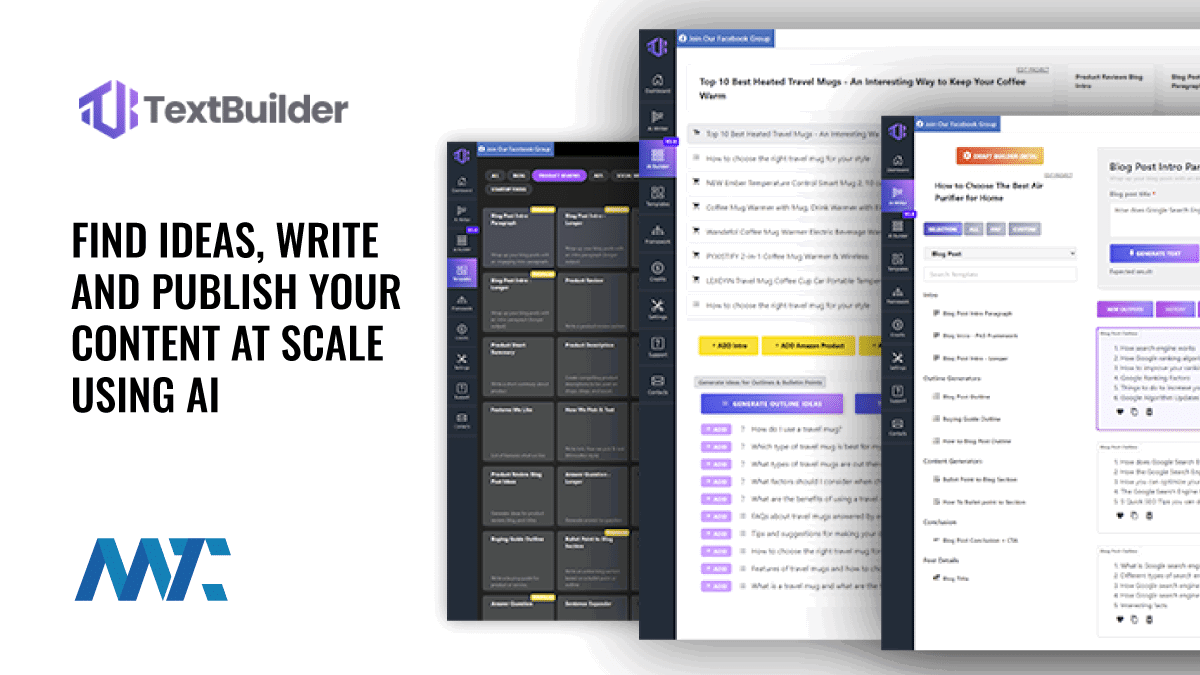 Consumers and businesses research online to get assistance with problems or to find resources to assist them in solving their problems. Building a comprehensive content library is the lifeblood that fuels being found as that resource. Bloggers, affiliate marketers, copywriters, ad experts, and startup founders need constant high-quality content to maintain their online presence. However, the demand for content often outweighs the time and resources available for its creation, leading to burnout, quality compromise, and untapped opportunities.
TextBuilder: A Scalable AI-Writer
Content creation is a time-consuming task. Crafting well-researched, SEO-friendly, and engaging articles can take hours if not days. The process is further complicated when managing multiple blogs or websites. With the ever-increasing demand for fresh content, the traditional method of manually writing and scheduling posts has become a bottleneck in the content creation process.
TextBuilder is the tool that bridges this gap with automation and the power of generative artificial intelligence (AI). The TextBuilder platform simplifies and automates content creation by leveraging advanced AI models like GPT-3 with ChatGPT.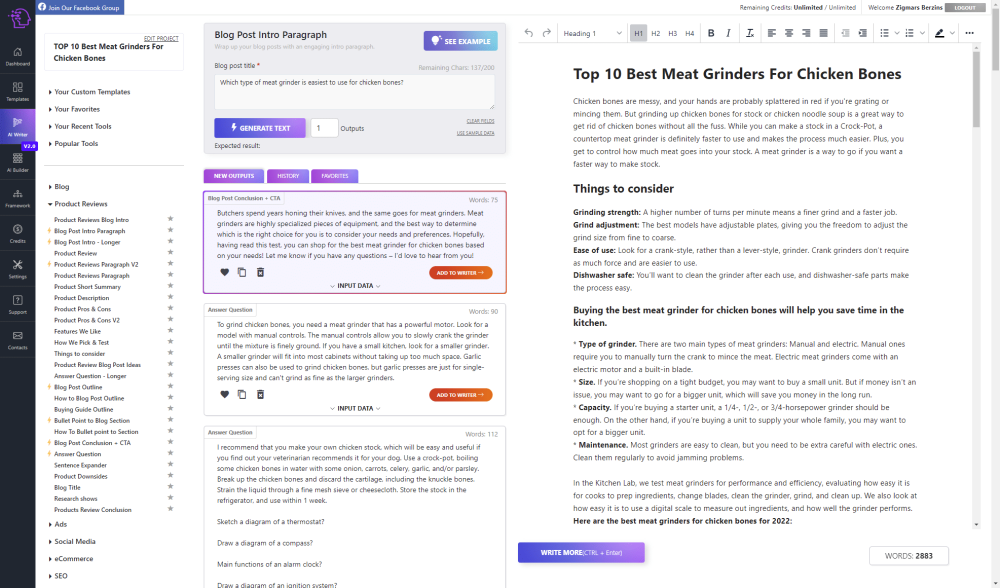 It's a comprehensive solution that generates ideas for articles, writes them, and event schedules their publication. It's a tool designed to take the laborious content creation process and turn it into a one-click operation.
TextBuilder Benefits and Features
With TextBuilder you can write listicles, product reviews, how-to articles, buyer guides, long copy, guest posts, articles, ebooks, ad copy, social media copy, e-commerce product descriptions, text messages (SMS) and emails all from a single solution. Benefits and features include:
One-Click Content Generation – Using advanced AI models, it can generate hundreds of unique and high-quality articles, saving countless hours of manual writing.
Fully Automated Schedule and Post to WordPress – With its scheduling tool, users can determine when the AI-generated articles will be published on their WordPress blog.
Customizable 1-Click Article Generator – Users can set their own prompts, ensuring full control over every text the platform generates and automatically publishes.
Auto Writer – Auto Writer is powerful for those requiring high content volumes. With a single click, Auto Writer can generate over 5000 articles, catering to the needs of SEO agencies, multi-blog owners, and prolific writers.
Here's an example of generating articles from a single product name:
In addition to its core features, TextBuilder offers many additional tools, such as a unique multi-level algorithm for generating long-form articles, the ability to regenerate any text part, grab outlines from competitors' URLs, and add images to articles. Moreover, users can look forward to upcoming features like a WordPress plugin for instant article publishing and compatibility with chatGPT prompts.
TextBuilder is a powerful tool that can provide immense value to a wide variety of professionals and organizations. It's particularly useful for individuals and businesses that own multiple blogs or Private Blog Networks (PBNs), as well as SEO agencies that need to produce high volumes of articles regularly.
Get your free TextBuilder Account