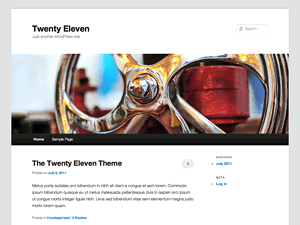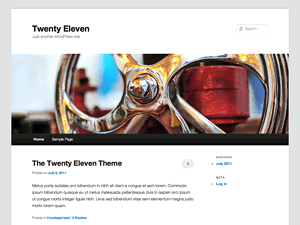 Over the weekend, I switched my WordPress theme back to Twenty Eleven. I can honestly say that I'm happy with the design now. I've tailored it to my liking and I didn't even have to touch the code. Now don't get me wrong, there are times when I love diving right into a theme and hacking the crap out of it, but blogging is hard enough as it is. I don't need any added stress about a design feature not lining up, or reoccurring errors because some data wasn't parsed correctly. Now I can focus on blogging.
The Twenty Eleven theme is not only beautiful and simplistic, but is also robust and extremely versatile. It was made by the WordPress team, which means that the people who fully understand and grasp the in's and out's of WordPress have crafted a theme to rule the all.
Twenty Eleven Features:
Light and Dark color schemes
Change link color
Two-column, right sidebar; Two-column, left sidebar; One-column, no sidebar
Seven different post formats to choose from
Change the background image and/or color
Display/hide header
Display/hide featured images
All of these options are editable from the Appearance sub-menu.
Aside from the theme's added features, you also get exactly what you would expect out of a full-featured WordPress theme:
Featured images per post
Fully widget capable
Image galleries
Beautifully nested comments
SEO friendly, even though you should consider using the Yoast WordPress SEO plugin
The last thing you'll need is adding the WP Touch plugin and you're ready for mobile, too! I know the feeling of wanting the absolute best design/theme for my sites – professional and personal alike. It's easy to lose track of your actual goal: blogging! Twenty Eleven is a free tool that you should be utilizing to alleviate the woes of creating and managing a WordPress theme.