A while ago I started putting my daily links up on a single blog post on my site. I did it that way for a couple reasons:
I didn't have anything to add to the conversation but I definitely wanted my readers to find these little 'jewels' of information.
I didn't want to regurgitate what everyone else had already written. I can't tell you how frustrating it was and is for me to go through 100 feeds on my reader pre-iPhone, iPhone, and post-iPhone. If it's just regurgitation, throw a link up and be done with it.
I haven't heard any complaints about the links – all the comments have actually been positive. I hope you like this way for me to convey the information that I'm taking in.
This post is different, though. I can't simply point to it without any note. In all the blogs I've referenced from my site, Creating Passionate Users is by far one of my favorites.
Here's a simple example of how powerful this blog is, Kathy Sierra summed up what I fight for and work on every day of my full-time job with two simple visuals:
On feature development: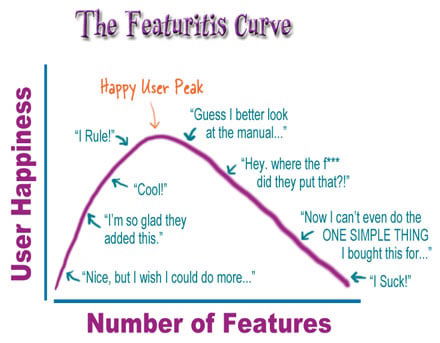 And on software by consensus: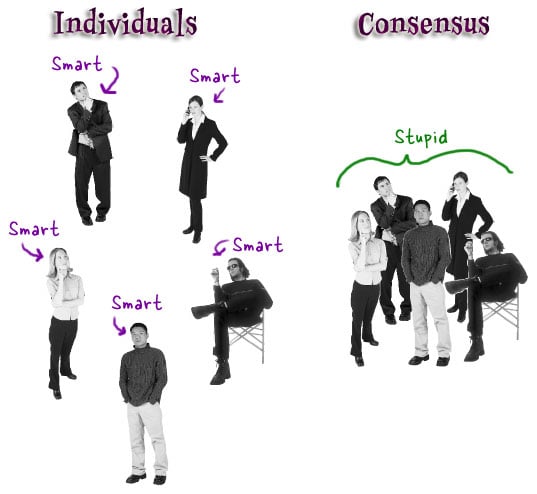 I commented on plenty of blogs but avoided linking to the terrible situation that Kathy found herself in. Kathy was the target of some shocking and terrifying posts and threats on another site. I don't want to put words in Kathy's mouth but judging from her writing, it obviously changed everything. I can only imagine what this was like to go through and my thoughts and prayers are with Kathy.
Kathy is leaving blogging because of the mass exposure that it brings. Many people are pushing Kathy to continue on with her blog but I don't think that's fair at all. Kathy was so generous with her blog, it was amazing. The contents of the blog could have easily been made in an edition or two of Head First books, but instead these fantastic thoughts were given to us free of charge.
Thanks, Kathy! If your focus was to help or change one single person with your blog, you've succeeded with me. I look forward to your next passion! I'd love to see you compile all the information from your blog into a fantastic book… perhaps you can have a closed subscription model site or newsletter that continues and provides you with the safety you deserve.
Perhaps a Head Start guide to Software Product Development and Management? Be sure to include those 2 images – they tell the whole story!