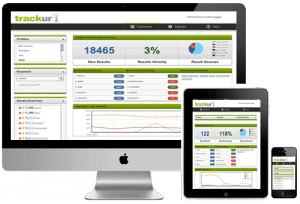 In today's world, no company that has a serious online presence can afford to ignore monitoring the web for reputation. In the age of cut throat competition and fleeting customer loyalty, only companies that actively monitor the social media and other active web channels to understand what customers think of them, and respond appropriately, stand a chance of enhancing customer loyalty, and by extension revenue.
Trackur offers a solution that makes your online reputation monitoring simple and affordable.
To use Trackur, simply input the required search term, which could be the company or brand name, and Trackur scours the world wide web of social media, blogs, video channels, news sites and more to list out wherever the phrase is found. Trackur saves the searches and keep tracks of updates that occur connected with the keyword search in the listed websites, allowing you to monitor the velocity of mentions over time. Results can be downloaded to Excel, or read via an RSS feed.
Trackur allows you to pinpoint your reputation monitoring through discreet filters that allow drilling down to minute search queries. There is also the option to deploy negative filters, excluding specific items from the search list. As well, Trackur includes its proprietary InfluenceRank dashboard so you can identify exactly who is speaking about you and what that impact might be.
Why Trackur? More than 45,000+ users trust Trackur to monitor 10+ million media mentions a day across more than 100+ million news sites, blogs, forums, Twitter, Google+ and Facebook! They enjoy accurate results, powerful tools, and no long-term contracts.
Trackur has a free plan, which comes without analytics or charts, allows just one saved search, limits results to the most recent 100 mentions, and excludes Facebook and Forums from the monitoring. All the paid plans monitor the entire gamut of social media and other relevant channels, and is powered by the full force of Trackur's reporting. For agencies, an incredibly affordable whitelabeled solution is also available.
The latest versions of Trackur have significantly improved the user interface and have been optimized for both tablet and mobile usage. And… since the entire application is founded by Andy Beal… you can trust that it's going to continue to be a simple, powerful tool that marketers can fully leverage!