Strike One… today was tax day. I wasn't really looking forward to doing my taxes, but I want to get them completed with plenty of time left. Having a part-time business (that currently loses money) makes keeping records absolutely necessary and I hate records. So I basically have a file cabinet that I shove notes, receipts, and mileage logs into. Then, when tax time comes, I dig out all of the folders and carefully organize everything in the event there's an audit on the way.
In 2005 I gave up the side business because it was such a hassle. However, this year my services have been much more in demand with much higher exposure… but, honestly, not much money. That's okay… it was calculated and it's working. I was very selective so the net of it is that I spent much more on my business than I brought in. My goal is usually to break even, but I had a bum account that put me under.
Anyways… I planned the weekend to do the taxes while the kids were going to visit their Mom. As luck has it, that got canceled as well. Strike two.
I logged onto TurboTax to download the software and thought I was in trouble…. on my account page I had pre-ordered the 2006 TurboTax Home & Business Version. But it was for Windows and I now have a Mac. Strike three?
Nope.
I logged into the web version of the software wondering what kind of app I was going to get. Boy, was I in for a pleasant surprise. It was absolutely amazing. The usability of the online software was perfect… on the left sidebar was the summary and on the right side was additional assistance. In the center panel, the application worked flawlessly. I was able to move back and forth, skip sections, jump back… and never had an issue.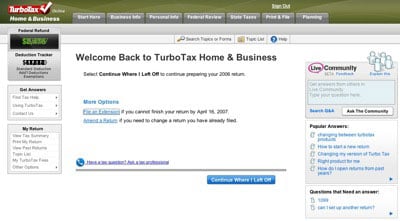 When I first started, I was running on Parallels since I thought I might need to download the software. There was no need. About half-way through doing my taxes, though, IE7 decided to take a dump (no surprise). I was worried that I may have lost some info but when I logged in using Firefox, I never lost a beat. TurboTax saves as you go.
Some other great features… I could still import my 2005 taxes to get a head start. As well, I was able to download all my W-2 data from ADP in TurboTax's app. I filed electronically, am having the refund directly deposited, got email alerts when they were ready for approval, and will get another when my refund is deposited – an estimated 9 days.
All in all, Intuit made my day. An application that can make sense out of our tax code is pretty amazing. Even President Bush states:
The tax code is a complicated mess. You realize, it's a million pages long.
Thanks, Intuit. I've been using TurboTax for about 8 years now and I think Intuit may have a customer for life (as long as they don't get rid of their usability experts!) TurboTax makes the IRS look good. I wonder if the tax system will ever improve as long as they have such talent at taking a complicated mess and organizing it into such a fantastic application.
For those people that think desktop applications can't move online, just do your taxes with TurboTax Online. My only disappointment with the entire process was when I figured out that I made less this year than last year. Ugh. And my son turned 17 so I no longer get a $1k tax credit for him.